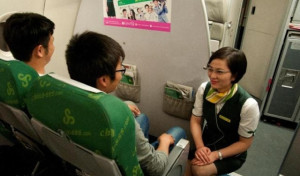 This article is re-published with kind permission of "www.airlinetrends.com".
This year, wearable tech devices are joining the digital mainstream, and airlines are jumping on the wearable tech bandwagon in order to test new applications as well as position themselves as forward-looking.
Earlier this year, Virgin Atlantic's six-week trial – featuring Google Glass and Sony SmartWatch 2 devices – in its Heathrow lounge creating a huge wave of publicity for the airline, while airlines such as Vueling, Iberia and airberlin have recently launched boarding passes for smart watches.
Spring Airlines
Meanwhile in China, WCARN reports that the country's first low-cost carrier Spring Airlines has equipped flight attendants with Google Glasses on a flight from Shanghai's Hongqiao Airport to Chengdu, becoming the world's first airline to deploy the device inside the cabin.
Spring Airlines says it is embracing wearable devices to stay at the forefront of passenger service innovation.
Details of the specific functionality provided via the Google Glasss devices are scarce, other than Spring Airlines saying that by wearing Google Glasses, Spring Airlines' flight attendants can get passenger information more intuitively and for example, the name and seat number of passengers shown on the device little screen (image here), allows flight attendants to serve passengers who want to to buy food more accurately and timely.
Smartwatch
In March of this year, Spring Airline also carried out a trial that allowed passengers at its Shanghai Pudong hub who wore a smart watch to board their flights quicker.
Passengers could check in, pass security check and board flights using the 2D barcode on their smart watches.
Passengers could also view real-time flight status as long as they synchronizing their boarding pass information on their smart watches. Spring at the time mentioned it is developing a dedicated app for smart watches.