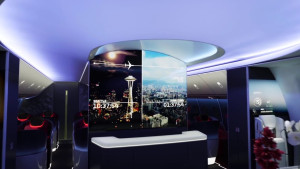 This article is re-published with kind permission of "www.airlinetrends.com".
With mood lighting now being a standard feature on new aircraft deliveries, several airlines have also started to retrofit LED lighting into their older cabins.
Furthermore, besides taking a 'generic' approach towards mood lighting – that is, recreating sunset on evening flights and sunrise in the morning – airlines are also looking to extend their brand inside the cabin by developing signature lighting schemes.
Examples of airlines that have taken a forward-looking approach to mood-lighting include Icelandair and Finnair, who have developed custom Northern Lights scenes that pulls in shades of blue and green that dance through the cabin.
Virgin America is known for its iconic purple and red mood lighting, while sister airline Virgin Atlantic has given its various mood lighting settings names like 'rose champagne', 'purple haze' and 'amber warmth'.
Says Daniel Baron, founder of Tokyo-based design agency LIFT Strategic Design, "Airlines should use mood lighting as an integral part of the brand presentation, or as association with origin.
As the systems become more sophisticated and available on more aircraft as line-fit items, more meaningful differentiation with the lighting, i.e., not just as a novelty, will become the norm."
Next-generation mood lighting and projection
A new video from Boeing – who made mood lighting one of the prominent cabin features of its 787 Dreamliner and 737 Sky Interior – shows how cabin lighting is further evolving beyond mood lighting to include project technology and high-definition animations that bring the cabin to life.
"Airlines could use these lighting enhancements on the walls and bulkheads to display information about the destination or to project scenes that get passengers thinking about where they're going," said Mike Sinnett, Boeing's VP of Product Development.
"These ceiling projections could be scenes found in nature or helpful information for passengers projected on the walls and bulkheads," he said. "The possibilities are endless about how this technology could be used."
Cabin Differentiation
According to Boeing, the company is exploring lighting and projection technologies in reponse to demands from its airline customers who want to set their cabins apart from the competition.
Says aviation journalist Marsia Garcia from FlightChic:
"Because these projections can so dramatically change the aircraft cabin's appearance, airlines can use out-of-catalogue surfaces. This would make the aircraft interior more interesting and far less confining for passengers, without added weight or complicated certification processes. This evolution from variable lighting programs to custom programmable animated projections is the type of zero-footprint cabin decor aviation needs to surprise and delight its customers."
A Boeing spokesperson emphasizes that it is still early days, telling RGN:
"We're working with suppliers, testing the latest in projection technology to support these concepts. They're being tested in physical mock-ups to determine the optimal position for projection and to lessen interference by passengers or crew."