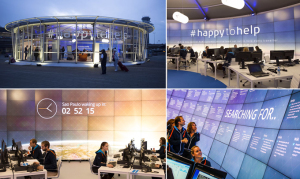 This article is re-published with kind permission of "www.airlinetrends.com".
KLM, known for its savvy social service and innovative marketing campaigns, took both to new levels last week with a bold #HappyToHelp campaign.
Starting with the premise that the best promotion for customer service is great customer service, a dedicated team scanned social media during five days for passengers facing travel woes throughout the world, and responded with a creative and relevant #HappytoHelp answer produced and personalised for single passengers in real-time – even when those passengers were not travelling with KLM.
KLM: On- and offline
Selected problems would then be solved in a variety of ways, ranging from actual physical intervention, such as helping someone retrieve a forgotten passport and still make their flight, to providing one-to-one advice or information through social media.
During the week, KLM's social media team could rely on the back-up from a team of fast-producing creative people from KLM's creative agency Tribal DDB with different skills to produce content. Answers ranged from a simple text message to an Instagram picture, a Vine, or YouTube video.
For example, KLM staff made a wake up call over the phone and offered breakfast at the airport (video here) to a traveller who had to get up early to catch her flight, provided a tailored weather report to a traveller who was unsure what to pack for that last minute trip to Ibiza, and recorded a video with personalized Spanish language lessons to a traveller flying to Mexico.
The airline even hired a speed boat on the Hudson River (video) to help out passengers who risked missing a flight–any flight–due to being stuck in traffic on their way to JFK.
"Imagine the impact if you are not flying with KLM but it is KLM that gets to the airport," says Pol Hoenderboom, creative director at Tribal DDB Amsterdam.
Real-time newsroom
A custom-designed 'real-time newsroom' glass pavilion (video) based at Amsterdam's Schiphol Airport served as the central 'control hub' for the campaign.
It housed rotating 30-people teams of specialists from both the airline and Tribal DDB, working round-the-clock in shifts. The glass pavillion at Schiphol Airport also featured a special studio, located next to the huge video wall screening all passenger queries, where tailor-made video clips were created for passengers.
Furthermore, KLM agents randomly helped travellers at Amsterdam Airport Schiphol, but also at São Paulo-Guarulhos, New York JFK and Hong Kong International, by approaching travellers that seemed to have a problem.
The airline had film crews on standby to shoot filmed responses to customers' problems and record footage of the most interesting and unusual problems solved, which have been published on YouTube.
According to KLM, the goal of the #HappyToHelp campaign is to improve the perception of KLM's customer service and to increase the overall KLM brand awareness. The #HappyToHelp name and logo will be further used in communications on KLM's customer service in the future.