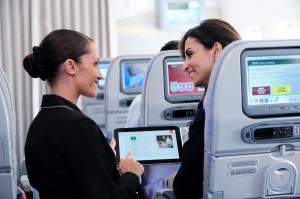 This article is re-published with kind permission of "www.airlinetrends.com".
Already launched back in 2004, Emirates 'Knowledge-driven Inflight Service' (KIS) allows the airline's cabin crew to see which previous trips a passenger has taken with the carrier before and based on this, know their food, wine and seating preferences, or any issues a customer had during their travels. Pursers use KIS to brief the cabin crew before every flight and check passenger's special needs, as well as see who is enrolled in Emirates' frequent flyer programme Skywards in order to enable the crew to provide a more personalized service. Cabin crew can also use the KIS system to perform in-flight upgrades to Business or First Class, as well as post customer feedback that's emailed to headquarters upon landing.
Until now, Emirates' KIS tool was tied to a Lenovo Thinkpad laptop that pursers tote around (video here). However, the laptops proved to be too bulky to use on a full flight. Says Anita Grillo, purser for Emirates, "The laptops had to be unpacked and plugged in because they had a short battery life. We had to ask passengers to come back to the galley to verify information, and passengers would have to wait until we clicked through pages that were sometimes slow to load."
Emirates and HP ElitePad 900
In order to solve the issues with the rather outdated device, as well as further enhance its knowledge-driven inflight service, Emirates just announced it has become the first global customer of the HP's new ElitePad 900 tablet which runs on Microsoft's new Windows 8 operating system. According to Kevin Griffiths, SVP of cabin crew at Emirates, the airline tried numerous other devices but was attracted to the ElitePad by its looks, lack of weight and bulk and support for legacy (Windows-based) applications.
Emirates IT staff redesigned the KIS application to run on Windows 8 and deployed it on the ElitePad tablets. "We quickly rebuilt the application to include images and gestures," Griffiths told Techradar. "The whole project from the development starting has been about six months. We have already trained 100 people and they will go online in December. In January after the launch of the ElitePad we'll be rolling out over about four months and all of our pursers will have a device each then."
The ElitePad is 3G enabled and Emirates has airtime agreements in place in most of its 120 destinations, so the tablet is synchronised with the back end applications and loads the final status just before departure, as well as will on landing.
Besides offering a much better user experience, Emirates added several additional KIS features to the tablet (video here).
Instant upgrade
Emirates crew have been able to upgrade Skywards members during a flight for several years – the only airline in the world so far that is able to offer this service. Compared with the earlier version of KIS, the new touchscreen tablets make the inflight upgrade process easier, for example by showing passengers who want to upgrade at the very last minute which seats are available, provided they have got enough frequent flyer points to pay for it. For those not upgrading, staff can now also conduct straight seat swaps on the device and show passengers their new seat using the tablet. Seating preferences are also relayed so that passengers won't be offered inappropriate seats.
Language skills
On board a large aircraft such as the A380 – of which Emirates will have 31 in service by the end of 2012 – there can be as many as 26 passenger-facing crew members, so a purser may not always know exactly who will be on board or other details about them, such as what languages they can speak. Emirates' staff represents 130 nationalities and with the knowledge of the passengers' nationalities, a purser for example can place a French-language speaker as a crew member near a block of passengers flying from Paris to the Middle East.
Says Patrick Brannelly, VP Corporate Communications at Emirates, "On an Airbus A380, there's about 25 cabin crew the purser is in charge of. Chances are, the purser's only flown with three of them before. Then there's 500 passengers. On a tablet, you can see an instant overview of the entire team. Now, with Windows 8, you can just touch a photograph of the crew and see what languages they speak. You can see who on the crew speaks Swahili, and dispatch the nearest one to the passenger who doesn't understand English."
Cabin crew reviews
Pursers also use the new KIS app to better monitor cabin crew performance and conduct crew reviews onboard. Pursers can identify top performers and others who may require skills development. "Each crew member goes through anywhere between twenty to forty checks in a year," points out Emirates' Griffiths, "Due to the nature of the continuing engagement that in-flight crew have with passengers, a number of appraisals cycles need to be completed to establish an average of their performance behaviour. Using KIS loaded on the ElitePad 900 tablets, pursers can enter their notes about the performance of each crew member identified for performance checks by the back end application. This helps pursers to take better ownership of the performance of their teams and coupled with the passenger information displayed on the tablet, is meant to drive higher customer satisfaction levels," says Griffiths.
Connected aircraft
According to Patrick Branelly, Emirates' new KIS service is only a sign of things to come: "Aircraft are becoming more and more connected. Tablets and smartphones give airlines an ability to re-look at every aspect of the business; they've opened things up in a way that just a few years ago wasn't conceivable. There's an awful lot of things that we can improve by employing connected technologies on aircraft."