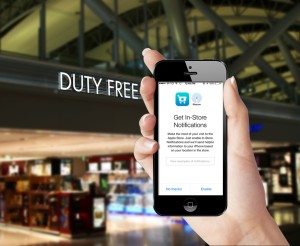 This article is re-published with kind permission of "www.airlinetrends.com"
Consumers today want to be online and connected all the time, wherever they are. Travel is no exception, and this is often a time when travellers need information the most. Passengers are increasingly more connected as they travel and are empowered by smartphones. With the majority of air travellers (70 percent at last count) now carying one or more personal devices – a much higher penetration than among the population at large – there is an opportunity for airports to differentiate the airport experience through mobile-based services.
So how have airport operators been doing so far? In this briefing we take a look at how airports are responding to today's connected travellers with mobile-based services and 'tech amenities'.
The Intelligent Airport
Mobile technology and ubiquitous connectivity enable airports to continuously interact with their customers throughout their journey and as described in reports such as SITA's 'The Intelligent Airport' [PDF here], mobile will be the game changer enabling airports (and airlines) to create personalised experiences.
According to SITA, 'The Intelligent Airport' is an airport which leverages the convergence of three trends: passenger self-service, mobility and collaborative decision-making – to create a smart predictive environment for the most effective flow of passengers and goods through an airport, both during normal operation as well as during times of disruption.
Possible scenarios include:
• Passengers at airports have all the travel information they need in the palm of their hand through a mobile device/smartphone. This reduces anxiety because they know whether or not their flights will depart on-time, and have confirmation that their bags are safely loaded on the flight. Their mobile device directs them to the shortest path to their gate.
• Airlines and other service providers know the passenger's location on an opt-in basis. Passengers not at the gate for boarding are reminded directly via their mobile device. If advanced analytics predict that a passenger cannot board in time, the passenger is automatically rebooked and bags are off-loaded. The flight departs on schedule.
• Airport operators greatly reduce wait times at security checkpoints, thanks to real-time business intelligence which allows easy deployment of resources to tackle potential bottlenecks.
Says Francesco Violante, CEO of SITA, "The rise of self-service and the growing impact of trends like big data, business intelligence, analytics, cloud and, of course, mobility, are making the 'always-connected' traveler a reality." […] "What is clear is that most passengers want information services on their mobiles to help them through the journey, including flight search and flight and baggage status. So it is no surprise that the vast majority of passengers think technology helps when traveling."
Although the realization of the 'intelligent airport' vision is still in its early stages, several forward-looking airports have come up with innovative mobile-based services:
Real-time waiting times
A well-documented example is the application by a number of airports (mainly in nortwestern Europe) of Bluetooth technology to measure passengers' waiting times. When passengers enter and exit security lines small receivers pick up the Bluetooth signal emitted by their electronic devices. This makes it possible for the airport to calculate the average waiting time at the security check, which is then used to inform passengers in real-time, for example via airport signage. The information also allows the airport to deploy security staff in the right place at the right time.
Service feedback
In the USA, some airports have found a clever way to use mobile technology to improve service quality. At Phoenix Sky Harbor and Dallas Fort Worth airports, QR codes are posted in the restrooms encouraging customers to scan the codes with their phones in order to notify airport staff if the restrooms need extra cleaning or if something needs fixing.
The Internet of Things
One airport that undertaken an ambitious programme with the aim to provide passengers with a smarter experience is London City Airport. The airport is currently developing an 'Internet of Things' pilot project which utilises machine to machine (M2M) communications to measure, monitor and manage passenger journeys through the airport, anticipating problems before they happen and providing the customer with data and a number of options to facilitate a smooth journey.
Facial recognition software is being used to help airport staff monitor where passengers are and predict and prevent queues. It can also track passengers and their luggage at the same time, so if passengers find themselves missing their plane, their luggage won't get boarded.
Another possible application is that passengers who pre-order food online or through their smartphone could have it delivered to them as they arrive at the departure lounge, while retailers can track when a passenger arrives at the airport, monitoring their behaviour to offer shoppers customised offers and ads.
Beacons
London City Airport's trial is one of the first major pilot projects aimed at realizing elements of the much talked about promise of creating personalized services for travellers. Furthermore, iBeacons, the latest buzz in the industry, have triggered a new wave of initiatives aimed at bringing the vision of a personalized airport experience closer. Beacon technology has been introduced by Apple with the release of its iOS 7 operation systems and uses Bluetooth 'low energy' and geofencing to trigger the display of location-relevant information on devices at the right time and in the right situation.
According to SITA, beacons have a number of useful characteristics that make them easier to work with than other communication technologies, such as Wi-Fi, text or push-notifications, and Near Field Communication (NFC).
First, beacon technology is part of the Bluetooth 4.0 standards, which means it is already available on current mobile devices so practically anyone with a recent smartphone or tablet will be able to receive the signal from the beacon – and therefore the notifications.
The really useful attribute of beacon technology though, is that when a smartphone detects a beacon, it can determine the distance to the beacon down to a few meters, making it a more elegant alternative for indoor mapping using triangulation technologies, such as Wi-Fi and cellular signals, as well as GPS, which doesn't work well indoors.
The current expectation in the industry is that – combined with mobile apps – deployment of beacons at airports could provide a low-cost way to send notifications and guide passengers around airports given their advantages over other location-sensing technologies.
Says SITA Lab's Kevin O'Sullivan, "Sending information to the passenger without knowing where they are could be counter-productive. If they're stuck in the security line, for example, you may add to their stress and irritate them. But if sending the information – which might be an offer for a seat upgrade or to use the airline lounge – is triggered only when a passenger passes a beacon placed after security, he or she may be more open to consider it. In these days of mass communication, it's not good enough to just send relevant information to the passenger. It's much better to send it at the right time. Beacon technology is a low cost way to ensure that," he says.
For example, SITA is working on a trial with Copenhagen Airport that uses beacons to trigger the airport's app on the passenger's phone. The passenger can then subscribe for notifications, such as gate changes and flight status messages, throughout the airport, as well as commercial messages.
SITA recommends that, as the number of iBeacon-based initiatives grows, airports will have to step in and develop a 'common use' iBeacon infrastructure as they will want to avoid every airline deploying its own iBeacons.
Airlines
Airlines in particular are well-positioned to take advantage of the iBeacon technology, as passengers are much more likely to have an airline app than an airport app stored on their phone, allowing airlines to combine the app's knowledge of the passenger, such as their flight details, with an accurate knowledge of their location in the airport to send contextually relevant information.
Virgin Atlantic, for example is currently testing iBeacons at London Heathrow airport. One example cited by the airline is a passenger who would receive an offer for a zero percent conversion fee as he passes by a currency exchange booth.  Virgin also says that the system could remind a passenger with Apple Passbook installed to alert them that they are approaching a security checkpoint and need to have their boarding passes ready.
At the recent 2014 Air Transport IT Summit, SITA and American Airlines announced the largest deployment of iBeacons so far at Dallas Fort Worth's Terminal 4. Starting this summer, a 180-day trial will use 100 iBeacons and will involve a group of 'beta' passengers before making it available to the general public in the next quarter. Phil Easter, director of mobile applications at American Airlines, said that initially, the only information pushed to AA passengers will be in relation to the flights and the airport passenger experience. Once the trial comes to an end, developers would start to think about potential operational benefits using the beacons, such as baggage tracking.
AIRPORT AMENITIES
Whereas airports are still in their early stages when it comes to the rollout of mobile-based services that improve the main passenger process, let alone the development of context-aware personalised services, they have been coming up with a large number of amenities that cater to the connected traveller.
We have selected some of these innovative 'tech amenities' from airports around the world, ranging from the integration of wireless charging technology with airport seating to mobile working stations.
Online Oxygen
Moving beyond offering complimentary wifi to passengers, which today is seen as a standard amenity – much like in hotels and shopping malls – and conveniently placed power ports (a.k.a. 'recharging zones') several airports have rolled out wireless charging technology.
For example, Toronto Pearson Airport has been one of the first airports to install a new design from public seating manufacturer Arconas that integrates wireless charging technology. Arconas has partnered with Powermat, a manufacturer of wireless charging mats, to place built-in charging stations into the surfaces between the airport seats, allowing users to place up to three devices on the charging mat for wireless charging.
Finland-based Powerkiss, meanwhile, has teamed with airport F&B operator SSP to integrate its wireless charging technology into the furniture surface at SSP outlets across Europe, allowing passengers to recharge their device in the same place as where they are sitting. To use the service, customers collect a receiver 'ring' at the outlet, plug it into their mobile device and then lay it onto PowerKiss-enabled tables installed throughout the restaurant or café.
At Amsterdam Schiphol and Brussels Zaventem, passengers can recharge their personal devices by hopping on a wooden bike. The bike-powered phone charging stations are manufactured by a company called WeWatt  and let passengers get some exercise in between flights and at the same time charge their gadgets with the kinetic energy they produce. Recharging a phone or tablet takes about half an hour of pedalling.
Staying productive
Catering to tech-savvy travellers who want to stay productive while travelling, Helsinki Airport has created what it calls 'Suvanto' private pods that provide passengers with a tranquil space to make their waiting time more comfortable and make it more convenient to work in between flights. Located near gates 16, 26 and 36, the Suvanto pods can be used free of charge and the airport has also installed charging points at the gates that are sponsored by Finnish energy company Fortum. According to Finavia, the goal has been to create a new kind of passenger service, which is available for everyone and meets the needs of the changing passenger culture.
And for the traveller who is looking for a more private workstation, Regus has recently opened the world's first mobile 'workboxes' in departure areas at London Gatwick's South Terminal. The Regus 'Business Workbox' is a four square meter fully self-contained private space that gives individuals – who want to make last-minute phone calls or finish emails before boarding their flight – a quiet environment amidst the hustle and bustle of the departure gates, The box uses acoustic insulation and the space is equipped to allow videoconferencing and listening to music privately. The fee for the workpods is GBP5 per hour or GBP10 per day and to gain access, users input their credit card details into a keypad. Membership schemes are also available.
Signs of the Digital Times
Two interesting signs of the (digital) times also caught our attention at Toronto Pearson and Singapore Changi.
A few years ago, Toronto Pearson Airport commissioned the design of a 'WiFi artwork' that communicates to travellers that the airport provides free Wi-Fi in a visual way. Consisting of three curves that mimic the wifi icon and gradually light up one bar at a time, the interactive art piece not only gets the message out in an aesthetically pleasing way, but also provides seating for weary travellers and a recharging station for their devices.
Singapore's Changi Airport has installed an interesting art installation, called 'The Social Tree', which plugs into a trend dubbed 'Life Caching' by trendwatching.com. The interactive installation that allows travellers to digitally store and share their photo and video memories and retrieve them on subsequent visits to the airport from the booths surrounding the tree. Travellers in this way can 'attach' their photos onto the colorful and animated crown of the structure, which is made up of 64 giant 42-inch high-definition screens, offering a 360-degree display of various animated backgrounds including a mystical forest and the Singapore skyline.