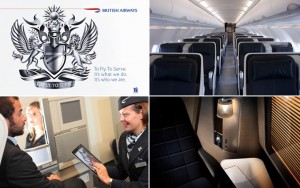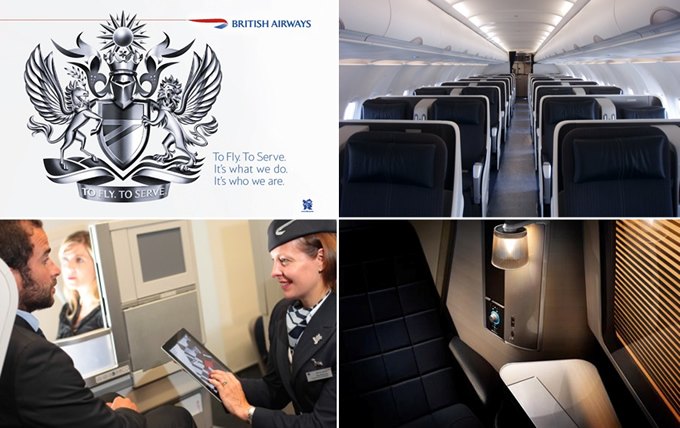 This article is re-published with kind permission of "www.airlinetrends.com".
For the past several years, there was a sense that if things could go wrong for British Airways (BA), they usually did: A global financial crisis set against BA's high exposure to the premium business travel market which resulted in large losses. Endless merger talks with Iberia. Labor disputes that forced flight cancellations and fleet groundings. And who can forget the rocky debut of London Heathrow's state-of-the-art Terminal 5 in 2008. With those difficult days largely behind it, BA appears to have regained its footing with several key innovative programs and plans now in motion.
GBP 5 billion investment
Announced in September 2011, British Airways' five-year GBP 5 billion investment program encompasses several key areas of focus. Overall, it will see BA's customers benefitting from new aircraft, updated World Traveller (economy) and World Traveller Plus (premium economy) cabins, a revamped First class, and an array of improvements to in-flight service, such as a more personal service and more flavoursome catering.
To Fly. To Serve.
Central to this effort is BA's GBP 20 million branding campaign, which kicked off in September of last year. The 'To Fly. To Serve.' advertisement campaign has the goal of re-igniting passion and belief in the BA brand among its customers and staff. The 'To Fly. To Serve' motto itself is found on the BA coat of arms and on the uniforms of its crew members. The campaign is meant to reflect British Airways' "long, storied history as genuine pioneers of commercial aviation from its earliest days to the modern era, and to evoke a trusted image of a distinctly British brand emphasizing quintessential British traits of quiet confidence, competence, professionalism, and devotion to service." Created by Bartle Bogle Hegarty, the campaign was launched with a 90-second commercial that premiered on the airline's official Facebook page. The supporting press and outdoor campaign includes different ads highlighting the experience and skill of British Airways staff. For example, one print ad features an infant swaddled in a BA jacket, to highlight the fact that staff are trained to deliver babies if necessary, while another ad features a blown-glass human heart to show that the airline carries precious cargo such as donor organs.
Fleet and cabin upgrades
In the sky, British Airways intends to keep pace with rivals thanks to orders of 12 Airbus A380s and 24 B787 Dreamliners, the first of which are expected to enter service in 2013. BA has also refitted 18 Boeing 777-200s to match the new cabins that are installed in its new 777-300ER aircraft. The updated cabins boast a new Thales IFE system with larger screens and more choices, and more comfortable seating in both Economy and Premium Economy. On BA's longhaul 767s, the Club World seats are refurbished with new seat foams and covers, similar to those onboard the airline's A318 London City – New York JFK business-only service. The upgrade project began in October 2011 and is expected to complete during the first half of 2013.
BA's next new cabin product is scheduled for 2013, with the arrival of its first A380s and B787. The carrier is also refining its catering and in October 2011 began offering Business Class meals in its Premium Economy cabin.
Onboard service innovation
Another central tenet of BA's business plan is to deliver outstanding passenger service for all passengers with special recognition of its top-tier customers. This goal had been significantly hampered by more than two years of contentious relations with BA's cabin-crew unions that had led to costly strikes. An agreement was finally reached last year with the unions. Moving forward from that, BA is investing in additional training of its flight attendants and has equipped many of them with the iPad 2.
iPads
BA's crew iPads feature the 'Enhanced Services Platform', which consists of several apps that allow flight attendants to store and receive relevant passenger details in real-time, such as itineraries, meal preferences and other data items that allow for a more tailored approach to in-flight service. Following a highly successful initial trial, BA provided as many as 2,000 senior cabin crew across its long and short-haul network with an iPad. Loading each iPad with details of the in-flight menu – including photos of the foods and notes on its source – is also on the roadmap. This content is also expected to make its way onto the BA website to showcase the food and wine offered on each flight. Bloomberg reports that the devices will also be issued to BA ground staff at London's Gatwick airport.
Additionally, BA is trialling a program on a handful of long-haul routes where a crew member is designated as an on-board travel advisor. Equipped with an iPad containing pre-loaded content about the arrival destination, the cabin crew is able to dispense travel advice and recommendations to passengers, however, because no in-flight Wi-Fi exists on these flights, reservations or other transactions cannot be made directly from the aircraft.
Golden ticket
BA also looks to boost cabin crew morale and reward outstanding customer service with the trial of a 'golden ticket' scheme. The initiative sees 3,000 of BA's top UK customers given two golden tickets to recognise cabin crew at any time. BA managers will then be able to thank cabin crew individuals personally for their contribution in delivering exceptional service.
Height Cuisine
As part of a larger initiative by the airline, called 'Height Cuisine', BA last year partnered with English celebrity chef Huston Blumenthal to come up with new, revamped menus and innovative culinary approaches to simply make meals served on airplanes taste better. Instead of using more sugars and salts to maintain flavor at high altitudes, BA's catering department – along with partner Gate Gourmet – were persuaded to use more umami-rich ingredients. In his own dishes and restaurants, Blumenthal has long used umami, a savory flavor known as the 'fifth taste', which occurs naturally in many foods.
Best of British
Looking for unique British brands to offer in its 'Club Kitchen' – a self-service galley in the Business Class cabin where passengers can help themselves to drinks and light snacks during the course of the flight – BA has recently started offering passengers popular products from upmarket UK supermarket Waitrose, as well as a selection of smaller artisan British brands such as The Ice Cream Union, Teonis and Beckleberry's.
And, as no other beverage is more uniquely British than tea, BA offers passengers in First an 'Afternoon Tea by the Dorchester' service. Consisting of finely prepared sandwiches, scones and pastries (and of course the finest tea) BA has embraced an elegant piece of British heritage to differentiate the passenger experience. The airline also recently entered into a partnership with British tea purveyor Twinings to be the exclusive supplier of teas on all flights.
London 2012 Summer Olympics
In anticipation of the upcoming Games, British Airways kicked off the 'BA Great Britons' programme in May 2011, in which top British talent were invited to submit entries in three categories: A bold British menu to be served aboard flights, an artful aircraft livery and a short-film to be shown on BA flights and at the pre-opening of the Games. In the food category, professional chef Simon Hulstone took top honors with a menu inspired by the 1948 London Olympics. Designer Pascal Anson submitted the winning entry to have his artwork that creates an illusion of a dove painted on the exterior of nine BA aircraft. In the film category, Prasanna Puwanarajah's short-film starring English actor Timothy Spall garnered first place.
BA also launched an airline themed pop-up venue – called 'Flight BA2012' – in the run up to the Games. Open for two weeks during April, the three-in-one art gallery, cinema and dining lounge showcased the works of the three winners.
Premium Services
Thanks to London's status as a global financial hub, BA has a very high percentage of business travellers. In recent years the airline has upgraded its lounges at Heathrow and launched a new First Class cabin alongside two other niche premium concepts.
With a GBP 100 million investment in its new First cabin, BA has sought to close the gap to the standards of luxury set by competitors in the Middle East and Asia, while its all-business 'Club World London City' service from London City Airport to New York JFK targets corporate travellers working in London's Canary Wharf financial district. The business-only A318shave just 32 Business Class seats and offer in-flight connectivity provided by OnAir, a wireless 'Club Mobile' portal, and the IFE consists of an iPad preloaded with movies and other content.
BA subsidiary openskies, meanwhile, provides a niche, boutique flying experience on its route between Paris Orly and New York's Newark Airport. The airline has just added an Economy cabin to its premium-only cabin and every passenger has access to an iPad.
New growth opportunities
Formed in January 2011 by the merger of British Airways and Iberia, International Airlines Group is well positioned to benefit from further industry consolidation and attract and capitalize on synergies with new partners. The company acquired loss-making BMI from Lufthansa in late 2011 and will use the slots at Heathrow gained from the transaction to significantly increase its service to key emerging markets (especially in Asia and South America) where it is underweight relative to its European rivals.
Emerging markets
BA, for example, will resume flights to Seoul in December and is widely expected to re-enter Kuala Lumpur with Malaysian Airlines set to join the oneworld alliance later this year. BA is also likely to deploy its upcoming A380s on its higher-density routes between London and destinations such as Hong Kong, Beijing and Singapore, with the 787 Dreamliners slated for potential new expansion into high-growth Asian markets. Currently serving three destinations in China, BA has also expressed a desire to ramp up its presence there.
Deriving maximum value and yields from the slots at Heathrow are of critical importance for BA given that the airport typically operates at 99 percent capacity and there are no plans to accommodate more flights through construction of an additional runway. Opening new markets is also important to the UK's economy as a whole, not just BA. According to a report published last year by Frontier Economics, UK businesses trade 20 times as much with emerging economies that have direct daily flights to the UK as they do with those countries that do not.
Other potential growth opportunities for BA parent company IAG could include an acquisition of TAP Portugal and the valuable market share stake in Brazil such a deal could bring. IAG had taken a serious look at TAP in the fall of 2011, but at present, action on any deal for TAP appears to hinge on the merger of Brazilian carrier TAM and LAN Chile that is expected to happen in June 2012 and which global alliance the new combined airline (called LATAM) chooses to join. IAG CEO Willie Walsh also recently said the company's enthusiasm for buying TAP has "significantly waned" as the European debt crisis damps travel demand and the appeal of carriers in the region.