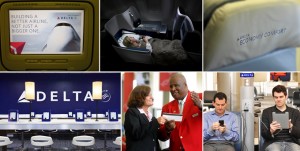 This article is re-published with kind permission of "www.airlinetrends.com".
Delta Air Lines has again earned a top 5 finish on our ranking of most innovative airlines, thanks to a number of ongoing and innovative investments that, in Delta's words, have the aim of "building a better airline, not just a bigger one." On the heels of its 2008 acquisition of Northwest, Delta's consumer rankings suffered as passenger complaints increased.  Airline mergers and their associated integration activities typically impact negatively customer satisfaction.  However, Delta's response to that in the form a USD 2 billion dollar investment program(which runs through 2013) put in place to improve the quality of its products and services deserve particular attention in our view.
Customer Service
As part of the multi-billion quality improvement program, Delta is focusing significant attention on the training of its customer-facing staff. The enhanced training programs and seminars are being targeted to the roughly 11,000 Delta passenger service agents and supervisors who are the day-to-day face of the airline to the travelling public. It has been over a decade since Delta undertook such a large-scale training effort, and the renewed focus on service standards comes in light of Delta's poor customer satisfaction scores in industry surveys in recent years.
Responding to passenger feedback for a more personal touch on the ground, Delta has already revived its 'Red Coats' service agents. In their role as a 'super' passenger service agent, the Red Coats' primary mission is to fix customer problems.  Easy to spot in busy airports thanks to their trademark red blazers, the Delta Red Coats carry hand-held computers that allow them to handle an array of issues on the spot, such as helping customers make flight connections, issuing new boarding passes or providing food vouchers when necessary. Over 800 agents are currently deployed airside at airports across the US, as well as at Delta's Asian hub at Tokyo Narita.
Expanding on its customer service footprint in the social networking space, Delta became the first airline to offer dedicated customer support via Facebook, as it brought the 'Delta Assist' Twitter service to the social network in March 2011, providing real-time travel assistance. To better serve its Spanish language customers, it also launched the @deltaassist_ES Twitter channel in the fall of 2011.
Innovative services
Delta was also the first airline to roll out mobile bag tracking capabilities via its Delta app for smartphones, allowing passengers to track their checked baggage in real-time. The airline also quietly introduced a premium service in partnership with the German automaker Porsche at its Atlanta hub for its highest-tier Diamond Medallion customers. Selected arriving passengers are escorted from the plane to a waiting Porsche luxury vehicle for a ride to their cars in the parking lot or another terminal for a connecting flight. Porsche has provided the vehicles to Delta free of charge, but has placed information about the car models in the vehicles and in Delta Sky Lounges at the airport.
Onboard experience
In late 2009, Delta embarked on a program to upgrade its international long-haul business class (Business Elite) with full lie-flat beds. At present approximately 35 percent of its transoceanic fleet has been equipped with the new beds, including all B777s and 767-400ERs in service. More than 50 percent of widebody international seats will be complete by the end of 2012 and flat-bed seats will be installed on Delta's entire international fleet by summer 2014. Of particular interest will be the rate of progress in the modifications to its older and larger 767-300ER fleet (currently  14 percent are converted) through 2012 and beyond, as the 300ER carries a significant portion of Delta's highly-valued transoceanic business fliers.  Delta recently announced that it would begin upgrading its 747-400 fleet with the new Business Elite cabins. It expects to have all 18 747 aircraft completed by October 2012.
Economy Comfort
Following the introduction of a new Economy Comfort class in early 2011, which offers passengers priority boarding, 4 inches of additional legroom, and 50 percent more recline, Delta is expanding this premium economy 'light' product – which is also offered by United and KLM – to both domestic and short-haul international routes. Economy passengers can upgrade to these seats for a fee that ranges from USD 80 to 160 one-way for long-haul flights and USD 19 to 99 on domestic routes, while higher-tier members of Delta's frequent flier program SkyMiles have complimentary or discounted access.
In-flight connectivity
On the in-flight Wi-Fi front, Delta emerged as the leader, with 100 percent of its mainline aircraft now equipped with Gogo's Internet service. Delta has also been a pioneer in rolling out this service to its regional jet (RJ) fleet, with virtually all RJs now outfitted with Wi-Fi.
For those passengers that don't want to pay for onboard Internet, Gogo and Delta in October 2011 also introduced a wireless IFE system on Delta's domestic fleet. Called 'Delta Connect', passengers can access the portal for free with their own devices to learn the flight's arrival gate number, access weather information, get help with missing baggage, order food, book a restaurant via OpenTable, or rent a car.
Fleet upgrade
Delta in August 2011 announced that it intended to purchase 100 Boeing 737-900ER aircraft for delivery between 2013 and 2018 as it retires older mainline jets such as the 757 and upgrades its fleet. The new 737s will also be Delta's first aircraft equipped with the new Boeing 'Sky Interior', which boasts larger overhead storage bins and a roomier cabin with enhanced ambient lighting.
Airport experience
Besides installing numerous free-standing charging stations throughout its terminals at 18 airports in the U.S, Delta in early 2011 placed 'wireless powerpads' in the seating areas of 19 Delta SkyClub lounges across the US. Up to 8 devices can be charged simultaneously and the wireless power transfer works through a metal on metal contact between the pad's surface and an adapter connected to the personal device, which is available from Delta staff in the lounge.
Minneapolis-St Paul
As part of Delta's redesign of its terminal at Minneapolis-St. Paul International (MSP) airport (which began in January 2012), the airline and airport restaurateur OTG Management are upgrading the current food and beverages offerings with 12 new local restaurants and several fresh food markets. Similar to Delta's New York JFK and La Guardia terminals, seating will be also equipped with iPads which passengers can use to order their food and beverages to have it delivered to their seat by a server in less than 10 minutes.
Delta and OTG will also introduce a new concept, called the 'OTG Media Bar' in the fall of 2012. The OTG Media Bar is a virtual newsstand where Delta passengers can rent an Apple iPad loaded with the content of their choice. Passengers can flip through the iPads to see what publications, movies, and music they like, download the content of their choice, and then rent the device for their trip. Once the passenger reaches his or her final destination, a pre-paid postage box received at time of rental is used to return the iPad.
The Big Apple
From an operational standpoint, Delta announced at the end of last year ambitious plans to expand and cement its New York City presence at the expense of competitors like American Airlines and US Airways in what is the world's largest travel market. Delta is turning New York's LaGuardia airport into a new domestic hub, and by summer 2012 will operate 264 daily flights between LaGuardia and over 60 cities, more than any other airline. Additionally, Delta will invest USD 100 million to expand and renovate two terminal facilities at the airport. At JFK, Delta's international hub in the NYC area, a USD 1.2 billion renovation project to upgrade Terminal 4 is underway, which is expected to complete in 2013.
Ancillary revenues
At its annual investor day in December 2011, Delta unveiled plans to radically grow its ancillary revenues. The airline currently makes around USD 600 million in revenue from sources such as preferred seats, upgrades, lounge access and in-flight Wi-Fi, and is targeting to grow annual ancillary revenues to USD 1 billion by 2013 through new products and enhanced e-commerce platforms. According to Tim Mapes, Delta's SVP of marketing, "there are a lot of ways to make money beyond the basic sale of a seat between two points."
A key pillar of the strategy is to aggressively leverage technology through delta.com, smartphone app capabilities and Delta kiosks to allow for a more differentiated level of service and product offerings (e.g. preferred seating and other up-sells) that impose little or no marginal cost to the airline. To that end, Delta is in the process of finalizing a new e-commerce platform it expects to unveil in the summer of 2012. Acknowledging that its imposition of baggage fees was "hostile" to customers (Delta earned nearly USD 1 billion from checked baggage fees in 2010), the airline says it aims to evolve from just imposing new fees for what once was free — checked baggage and meals — toward selling improved services such as premium economy seats and eventually selling customized or bundled offerings.
Some examples of Delta's efforts in the ancillary revenues space are its re-launched Delta Sky Store website, which now also includes a 'Delta Picks' section, which is a selection of the best travel products by Delta's flight attendants. Delta has also partnered with LivingSocial to create date and destination-specific deals for passengers who have booked itineraries on delta.com, and sells access to its lounges via deal-site Groupon.
Jet Fuel Refinery Investment
In what is a first in the airline industry, Delta announced last month the purchase of a refinery near Philadelphia, PA for USD 180 million. The Commonwealth of Pennsylvania contributed USD 30 million towards the purchase, and Delta intends to invest an additional USD 100 million which will go towards increasing jet fuel production at the facility. Jet fuel is the single largest cost (approximately 40 percent at Delta) for the airline, and by taking a direct role into managing a critical piece of the supply chain, Delta hopes to better control these costs moving forward. The refinery is expected to be fully online by September 2012 and able to provide Delta with up to 80 percent of its jet fuel demands for US operations.
Delta is partnering with BP and Phillips 66 to provide crude oil to the plant and has hired a management team with experience in the energy industry to oversee the refinery's operations. While Delta is counting on the acquisition to result in jet fuel cost savings to the tune of USD 300 million per year, skeptics of the deal point out that upward pressure on global crude oil prices could end up magnifying the risk exposure to the airline. Whether Delta's bet will pay off is of course still to be determined, but the bold step that the airline has taken will certainly be watched very closely by the airline industry and Wall Street.