This article is re-published with kind permission of "www.airlinetrends.com".
Consumer behavior is changing.
As smartphones make it quick and hassle-free to order goods online, watch a movie, or flag a taxi, the so-called 'On-Demand Economy' has generated a sense of entitlement with consumers to fast, simple, attention-saving experiences.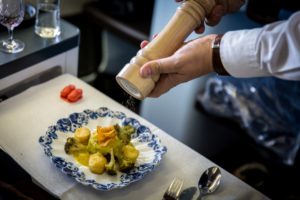 Expectation Transfer
And, in what TrendWatching has dubbed 'Expectation Transfer', the experiences consumers have with one brand also impacts the expectations they have from brands in other industries.
David Mattin, head of Trends and Insights at TrendWatching believes the expectation transfer happens in customer-business relationships when an innovation serves a basic need in a new way, and therefore sets new customer expectations.
Mattin uses the ubiquitous rideshare app, Uber as a shining example, "Uber helped to create new expectations and those expectations spread, becoming the now well-established trend known as on-demand. That's expectation transfer: the mechanism by which new innovations from around the world shape what your customers will soon expect from you [the business]."
And raising the bar even more: Analysis from Uber has found the longer Uber has been in a city, the less willing to wait for a car everyone becomes.
Food Delivery Platforms
One of the areas where the on-demand economy has had an enormous impact is food delivery.
Online food-delivery platforms such as Just Eat, GrubHub, Delivery Hero, Deliveroo, Takeaway.com, FoodPanda, Foodora, Uber Eats and Amazon Restaurants have expanded choice and convenience, allowing urban customers across the globe to order from a wide array of restaurants with a single tap of their mobile phone.
These on-demand expectations are also transfering to the travel sector.
For example, hotels such as Marriott allow guests to order food and amenities via the hotel app, while other hotel chains have partnered with food delivery platforms to replace room service.
And Deliveroo has just launched a food delivery service to passengers waiting at the gate at Dubai Airport and Amsterdam Schiphol.
Up In The Air
So what does this on-demand mindset mean for the inflight experience, in particular for onboard catering?
Today, only about a dozen airlines allow passengers to order food or snacks on demand, be it via the (wireless) IFE system or by just asking the flight attendant.
In Business Class, on demand meal service is part of a broader trend that sees airlines introducing hospitality-inspired service offerings that provide passengers in premium classes with more choice and control.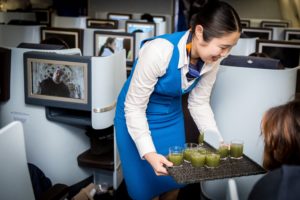 Passengers onboard Etihad, Qatar Airways, Air Canada, KLM, and Finnair can order a meal or snack whenever they want, while Japan Airlines and Air New Zealand let passengers order a light meal or snack via the IFE system in between regular meal services. Cathay Pacific has been trialing an on-demand catering service in 2017.
At the other end of the spectrum are long-haul low-cost carriers such as Norwegian and Level – but also a hybrid LCC like FlyDubai – who give passengers the option to purchase buy-on-board catering via the in-seat IFE system. For these carriers this is a way to "keep the store open" during the full flight, instead of just selling items when the crew walk the aisle with the trolleys.
CASE: KLM 'Anytime For You'
Since mid-2017, KLM has been operating a new service model in its long-haul Business Class called 'Anytime For You'.
At the start of the flight, passengers are presented with a printed menu, which – in addition to the regular three-course dinner or lunch options – also includes an 'Anytime For You' range, consisting of five different, options, such as veggie, local, healthy, guilty pleasure, etcetera.
Passengers can opt for the regular three-course menu or skip this entirely. After the standard meal service, passengers can order from the 'Anytime For You' throughout the flight.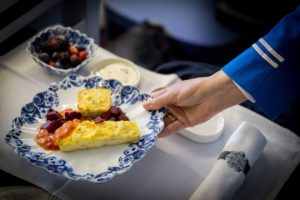 Human touch: Accommodate passenger's travel schedules
The idea behind the new service comes from the fact that the majority of KLM passengers transits at the airline's Amsterdam Schiphol hub.
This means passengers are coming from different time zones: One will have just finished breakfast. Another just wants to sleep. Yet another is in the mood for a small snack, while someone else is ready for supper.
Digital touch: Support flight attendants
Cabin crew play an important role in the new concept.
Together with the passenger, they compile a personal service schedule for the flight. And because the 'Anytime For You' service calls for far more activities – all dishes are assembles in the galley and served by hand as in a restaurant – KLM has added an extra cabin attendant to the Busines Class team.
To support KLM's cabin crew during the new on-demand serice, the airline developed an app for the iPad that each KLM crew member carries.
When taking orders, the app allows crew to look up specific information about a meal – such as ingredients, origins and allergens – or add notes for passengers with special requests.
The crew member in the galley – who prepares and plates the dishes – has insights in the specifics of each order as well as detailed preparation and plating information. Per type of meal (starters, main meals, desserts, etc) there is an overview of all orders taken.
To transfer each order from the iPad carried by the flight attendant taking orders to the crew member preparing the orders in the galley, animated QR-codes are used, so there is no need to use a Bluetooth or WiFi connection.
KLM is rolling out the 'Anytime For You' on-demand service concept on a destination-by-destination basis and the service is is currently being offered on flights between Amsterdam and Johannesburg, Bangkok and Tokyo.
Eventually, KLM expects to offer the 'Anytime For You' service on about 10 'key' routes.