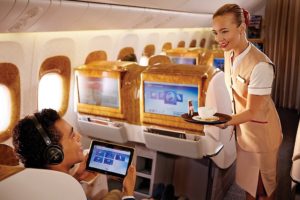 This article is re-published with kind permission of "www.airlinetrends.com".
Staff taking drink and meal orders using a digital device is a common thing in bars and restaurants around the world.
Meanwhile, casual dining restaurant chains and airport F&B operators now let customers place their orders themselves, either via a tablet provided by the restaurant or via an app on their own smartphone.
Now the airline industry is taking its first steps in this digitally-enabled F&B service.
Besides the handful or airlines – including Air New Zealand, Japan Airlines, FlyDubai and Virgin America – that allow passengers to place orders via the in-seat IFE system, Emirates has recently issued so-called 'Meal Ordering Devices' to all its flight attendants who work in Business Class.
Meal Ordering Device (MOD)
Cabin crew recruitment portal PaddleYourOwnKanoo reports that the MOD smartphones connect to a plug-and-play WiFi router which is separate from the onboard connectivity system that passengers use.
All the smartphones (Samsung Galaxy A7) are synced to communicate with one another for the duration of the flight, don't have a SIM card, and have been blocked from running any applications apart from the bespoke Meal Ordering app.
"The orders are taken on a hand held device and are instantly reflected on a tablet in the galley. Each order is then prepared immediately making service faster, more efficient and more personal," said Terry Daly, Divisional Senior Vice President, Service Delivery at Emirates.
As Australian Business Traveller rightly puts it: "With as many as 76 business class passengers on an Emirates A380, the technology is proving to be a significant time-saver in keeping those premium passengers feed and watered – as well as ensuring what they're served is precisely what they ordered, without slip-ups."
To take account of passengers individual needs the phones are synced with Passenger Number Records (PNR) before take-off.
Along with the name and seat assignments for every passenger, the app can also tell crew about the status of the passenger, whether they were upgraded, their meal preferences and whether there are any 'special' notes about them.
The service was originally trialled on flights between Dubai and Paris, Mauritius, and Melbourne/Auckland and will be rolled out fleetwide at the end of May this year. Cabin crew have received a one-day, hands-on training course for the new devices.
Knowledge-driven Inflight Service (KIS)
Emirates several years ago has also equipped its pursers with tablets containing its 'Knowledge-driven Inflight Service' (KIS) system.
Pursers can see which previous trips a passenger has taken with the carrier before and based on this, know their food, wine and seating preferences, or any issues a customer had during their travels.
Furthermore, pursers can use the KIS device to brief the cabin crew before the flight, get an overview of the various languages spoken by the crew on the flight, as well as review flight attendants on the spot.
Cabin crew can also use the KIS system to perform in-flight upgrades to Business or First Class, as well as post customer feedback.