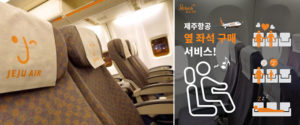 This article is re-published with kind permission of "www.airlinetrends.com".
Moving beyond the low hanging – and very profitable – ancillary fruit of checked bags, advance seat reservations, extra legroom seats and last-minute upgrades, airlines are becoming more creative in generating revenues beyond just the ticket fare.
One way to approach ancillary innovation is to look at the different needs passengers travelling in the same class may have.
For example, SWISS has recently introduced a fee to pre-reserve one of the popular solo business class seats on its A330 and B777-300ER aircraft.
In Economy, airlines are increasingly offering passengers options for more comfort at a time when seat density is increasing and load factors are high.
Empty Seat Option
South Korean low-cost carrier Jeju Air – which flies between South Korea and Japan, China, Taiwan, Guam, Saipan, The Phillipines, and Bangkok with a fleet of 26 single class B737-800s – has come up with a clever, hands-on, way to generate last-minute ancillary income, low-cost style.
About two years ago, Jeju Air introduced a 'Side Seat' offer, which is similar to OptionTown's 'Empty Seat Option' (adopted by airlines such as AirAsia X, Vietnam Airlines and Spicejet), and lets travellers purchase one or two seats next to their own seat, in an effort to sell last-minute seat inventory.
Whereas the Empty Seat Option lets passengers purchase an option to a possible empty seat for a small fee and be notified if an empty seat is available 1 to 3 days before their flight, Jeju Air's passengers can only book the additional seats at their departure airport on the day of the travel (up to 1 hour before boarding).
Jeju Air's 'Side Seats' are priced at USD 10 for domestic routes, USD 25 on routes to and from Japan and China's Shandong region, USD 30 on flights between South Korea and Southern China and Taipei, whereas the fee for a last minute extra seat is USD 50 on routes to and from Southeast Asia (Philippines, Vietnam, Thailand) and Oceania (Guam, Saipan).
Jeju Air 'Sleeping Seat Package'
On longer routes onboard Jeju Air's B737-800s, the airline also offers passengers the option to purchase a 'Sleeping Seat Package'.
If a passenger purchases two extra 'Side Seats' (for a fee of USD 100) in addition to his or her main seat – in order to have a row of seats to themselves – a pillow and blanket are added. By raising the arm rests of the middle seat a passenger can then stretch out horizontally on 3 seats.
The 'Sleeping Seat Package' service is available on Jeju Air routes between South Korea and Guam, Saipan, Manila, Cebu, and Bangkok. These flights depart in the evening between 8 to 10pm and the flight duration is around 4 to 6 hours.
Jeju Air's 'Sleeping Seat Package' is a clever way to monetize a free perk that previously reserved for passengers who found themselves on a quiet flight and who could then occupy a row of empty seats at no additional costs.