Airlines are becoming more creative in selling ancillary services to passengers in order to increase revenues per seat.
For example, many airlines today offer passengers the option to place their bids in a blind auction for an upgrade to a premium seat, while airlines such as KLM and Emirates invite passengers to contact the tablet-equipped crew if they want upgrade to another cabin at the very last minute onboard.
Selling upgrades at the gate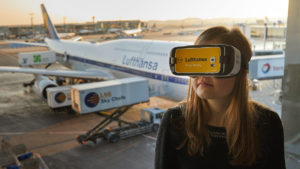 Lufthansa has recently trialed an innovative way to sell upgrades to Premium Economy at the departure gate.
Earlier this year, the airline used virtual reality (VR) glasses at its Frankfurt Airport hub as a way to tempt Economy Class passengers to purchase an upgrade to Premium Economy right before their departure.
By inviting passengers to put on some VR glasses and take a 360 degrees view of how the Premium Economy seat and cabin looks, Lufthansa hoped passengers booked in Economy would become more interested to purchase an upgrade.
As Lufthansa put it: "Because what legroom and premium service really mean in Premium Economy can be best demonstrated in three-dimensional form."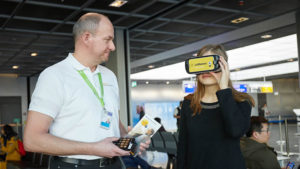 For two weeks flights were selected for the VR-based promotion on a daily basis, choosing those where there were still enough seats free in Premium Economy.
Up until 40 minutes before departure, passengers were given the chance to virtually try out Lufthansa's new travel class in 3D.
Passengers who decided to go for the upgrade could then pay the surcharge directly at the gate with an agent carrying a mobile payment device.
According to Lufthansa it has already achieved considerable success with upgrading passengers to Premium Economy through the use of VR in the U.S.
Lufthansa and virtual reality
Over the past few years, Lufthansa has been busy experimenting with the usage of virtual reality devices and was one of the first airlines to use 360-degree films at trade fairs such as the ITB, as well as for advertising promotions.
Furthermore, the airline last month offered passengers the chance to try out the Avegant Glyph video glasses at its Business lounge at Frankfurt Airport and has featured the same glasses onboard its Flying Lab flights to San Diego, New York and Houston.