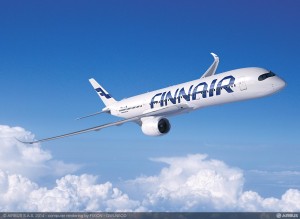 This article is re-published with kind permission of "www.airlinetrends.com".
Finnair has been the first European airline to take delivery of the A350-900 and the third carrier worldwide (after Qatar Airways and Vietnam Airlines).
Finnair's 297-seat aircraft is configured in three classes with 208 seats in Economy, 43 in Economy Comfort and 46 in Business.
Following a month of 'familiarization flighs' to European destinations, Finnair's first A350 will begin operating long-haul routes between Helsinki and Shanghai on November 21st.
There is a lot to like about Finnair's (and its design agency dSign Vertti Kivi & Co) approach towards designing the A350 onboard experience, which features several innovative elements.
1. Welcome Onboard: Galley Screen
On most widebody aircraft passengers enter the cabin at the so-called door 2 and often their first impression is the sights of an industrial-looking galley area.
Finnair has come up with a clever (and economic) solution by installing galley screens that are lowered when passengers are boarding and which feature a striking photo.
Marisa Garcia from FlightChic summarizes it nicely:
"There is a very clever introduction of Finland's lush green nature with a calm forest image in a galley screen, which I found was an attractive detail. It helps the cabin feel fresh, quieting the disturbing visual noise of galley equipment. It's really a very simple thing, but Finnair took the time to consider it."
2. Mood Lighting: Northern Lights
A remarkable feature of the cabin is the dynamic mood LED lighting. When passengers board the plane, they are greeted by the sight of clouds drifting across a blue sky throughout the cabin (video), while cool Nordic blue shades resembling the Northern lights will set the mood as the plane approaches Helsinki.
In all, there are 24 lighting schemes, and for example a warm orange glow can be created to suggest an Asian ambience on flights to the Far East.
Says Juha Järvinen, Finnair's Chief Commercial Officer, "Finnair's new Airbus aircraft feature a cabin interior largely based on the Space Alive concept developed by dSign, where the main idea is to change the mood of the cabin space as the flight progresses."
The mood lighting is also integrated with the in-seat IFE system.
Jouni Oksanen, VP Digital at Finnair tells Hangar.no, "We've also added a timeline for dimming of the displays. This means that during the flight the screens will adapt to the time zones the aircraft passes. When it's night outside, it will be night on the screens so it does not light up a whole bunch of bright displays that disturbs people who want to sleep."
3. Business Class: Ladies' Room
Female passengers in Business Class have access to a dedicated Ladies' Room which is stocked with cosmetics and other supplies from Finnish brand Clean (images here and here).
Australian Business Traveller reports that the ladies-only lavatory will be made available to "high-flying hommes" in the event that there's a higher than usual proportion of men to women in business class, but as a rule it will be reserved for women.
4. Brand Collaboration: Finnair x Marimekko
Finnair's A350 cabin is dominated by airy white and grey colours, and is perhaps seen by some as more 'bland' than 'brand'. However, pillows, blankets, tabletware and an amenity kit designed by iconic Finnish design house Marimekko for Finnair add great splashes of colour to the cabin.
Says Finnair CCO, Juha Järvinen, "Many of Finnair's long-haul passengers coming from Asia, Europe or North America may not be so familiar with Finland, but their time spent travelling with us is a great opportunity to showcase the best of our design culture and show how good design can make life better."
5. Flight Stages Timeline on IFE system
Developed in-house in partnership with creative agency Reaktor, Finnair has dubbed its Panasonic IFE system 'Nordic Sky'. The on-screen display shows the main stages of the flight, guiding passengers from departure throughout all stages of their journey, informing them in advance when meals will be served, when rest lighting will be activated, and when passengers can make purchases from the in-flight shopping service.
Cabin crew announcements appear at the top of the display and inform passengers of events such as flight schedule and meal delivery. The cabin crew can update all flight events – such as the flight schedule and the food menu – in real time.
6. On-demand ordering of alcoholic drinks, snacks in Economy
On Finnair's long-haul flights, passengers in Economy and Economy Comfort are served beer and wine free of charge when a meal is being served. Coffee, tea, soft drinks are free in between main meal services, while alcoholic beverages and select snacks are available for purchase via the SkyBistro service. Passengers can also order champagne and chocolate for an additional fee.
On the A350, passengers in Economy and Economy Comfort will be able to place their orders via the IFE screen (image) and pay with the cabin crew who will receive the orders on their tablet devices. The on-demand service has already been added to the IFE system, but Finnair says it will begin offering the feature 2016, "once all the other cabin procedures are going smoothly on the new aircraft."
7. Business Class Perk: Free Wi-Fi
A nice perk for passengers travelling in Business Class passengers – as well as upper tier of Finnair's and oneworld's frequent flyer program members – is full Internet access free of charge. Passengers in Business that want to use the wi-fi can use a code that will appear on the IFE screen (image). Passengers in Economy can purchase wifi either by the hour (euro 5) or for the duration of the flight (euro 15).
8. Inflight Portal: Duty Free Pre-order
The onboard 'Nordic Sky' wifi portal – which can be accessed with passengers' own devices – gives all passengers free access to finnair.com and Finnair services such as destination information, customer care and pre-order shopping.
The duty free pre-order section lets passenger order duty free items for delivery to their seat during their return flight. Orders are processed via the wifi satellite link to the ground. According to the airline, "Using technology to promote shopping opportunities on board allows Finnair to offer passengers a valuable service, without overwhelming them with sales pitches or irritating those who want to rest and relax on a flight. It also removes the pressure from cabin crew to sell."
"That's why we're using technology, the IFE, the portals we have. So that, if you want to shop, we enable that through the technological platforms we have onboard," Finnair's CCO Juha Järvinen recently told attendees at the World Low-Cost Airlines Congress in London. "We shall not increase the number of trolleys going back and forth in a corridor. That's what you don't want. The IFE technology and the Wi-Fi platforms enable you to do your shopping when you want, at your discretion."