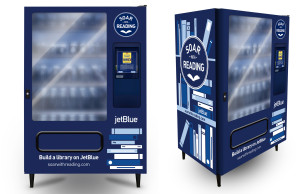 This article is re-published with kind permission of "www.airlinetrends.com"
JetBlue has extended its social responsibility initiatives with a pilot program aimed to close the literacy gap in a low-income town by providing vending machines that give out thousands of free books to underprivileged children.
A selection of 12 books rotates every two weeks, offering up to 42 different titles through the summer.
The airline teamed-up with publishing company Random House to place three vending book machines around the low-literacy neighbourhood of Anacostia, in Washington, D.C. which was chosen to launch this program after a study commissioned by JetBlue found that the Anacostia section of D.C. is a large 'book desert', leaving residents little or no access to purchase age-appropriate children's books.
According to city school data, the area sees less than 25 per cent of its middle schools (for children aged between 11-15) able to ready at grade level.
The kiosks have been placed at a Salvation Army's community center, a Safeway store on Alabama Avenue and near the entrance of a Baptist Church.
To help their children enjoy their books, parents can opt-in to an SMS campaign that offers reading tips, as well as updates when the vending machines are re-stocked with fresh selections.
"Innovative solutions that involve and engage the community is necessary to combat the current summer slump that happens especially in underserved communities," said Icema Gibbs, JetBlue's director of corporate social responsibility.
'Soar With Reading'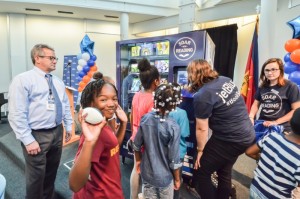 This initiative is part of JetBlue's ongoing 'Soar with Reading' program, now in its fifth year. Since 2011, Soar with Reading has donated over USD 1,250,000 worth of books to kids in need.
The program is promoted on a dedicated website and mobile app and on social media with the hashtag#BookBattle.
On the site and the app, followers can find event updates, new activities and games, resources for families, reading recommendations and more promotions designed to inspire a love of books.
Random acts of kindness
On a related note, JetBlue is also running a long-term 'random acts of kindness' initiative that is a twist on the concept of 'paying it forward'.
Last year, the airline awarded a free ticket to several deserving individuals involved in humanitarian efforts and then lets that person select another deserving recipient of the free ticket, and so on and so on.