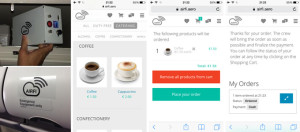 This article is re-published with kind permission of "www.airlinetrends.com"
Earlier this year we reported on MI Airline's AirFi box – a portable, battery-powered and self-scaling wireless local network.
The AirFi solution is based around a small box which can be stowed in a luggage locker – instead of having to be installed in the aircraft, hence no certification is needed.
Launch customers of the AirFi box are Estonian Air, Transavia and Arke (part of tour operator TUI) – who are using the portable wifi network for inflight entertainment, and/or to connect the tablet devices of cabin crew.
TUI Cloud
Netherlands-based leisure carrier Arke – which later this year will be rebranded as TUI – has installed the AirFi box onboard its fleet of three B787, one B767 and five B737 aircraft for wireless entertainment purposes.
The service is branded as 'TUI Cloud' and allows passengers to use their own devices to watch video content, read newspapers and play games.
Arke's managing director Hans van de Velde tells TravConnect that the wireless service is appreciated by passengers.
For example, on some flights 40 percent of passengers is reading De Telegraaf (the largest newspaper in the Netherlands) via TUI Cloud and the airline is considering not to carry the paper edition of the newspaper anymore.
According to Arke, the content and functionality of 'TUI Cloud' will be expanded with e-books, magazines (in partnership with publisher Sanoma) and newsfeeds in the coming months.
Ordering drinks, snacks and duty free
Arke is also the first airline in the world to let passengers order food, snacks and duty free items via their own devices for delivery to their seats. The airline is currently trialing the on-demand service on a select number of long-haul and short-haul routes.
Passengers can access an online shop on the 'TUI Cloud' and browse the 'TUI Café' inflight menu and the duty free catalogue.
They can then add the items they want to order to a shopping card and select their preferred payment method. Current payment options are credit card or cash, but MI Airline says it is working to let passengers pay via their own device.
Arke cabin crew receive the orders from passengers on their tablet devices (the airline is using an onboard retail solution from Retail in Motion) and passengers receive a notification when their order is being prepared.
As Arke serves passengers two complimentary meals and drinks on long-haul flights, the option to order additonal beverages and snacks from the 'TUI Café' menu is limited to the period in between meal services.
Passengers in Economy have to pay for additional F&B items and one objective of the 'TUI Cloud' ordering service is to increase sales by lowering the barrier to order (passengers now have to use the crew call button), as well as to avoid disturbing other passengers on overnight flights.
Passengers in Arke's 'Premium Comfort Class' can use the F&B ordering service for free.
In a later stage TUI is also planning to let passengers pre-book activities at their holiday destination.
For a longer take on the changing dynamics in inflight retail see our article "How data, connectivity and a retailing mindset help increase onboard revenues."