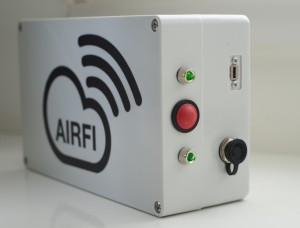 This article is re-published with kind permission of "www.airlinetrends.com".
The massive consumer adoption of smartphones and tablets has resulted in a large number of new and established suppliers developing wireless inflight 'intranet' solutions that can be used as a low cost wireless inflight entertainment system, as well as for onboard retail purposes, inflight service and crew productivity.
A recent article on Runway Girl Network nicely summarizes this development: "Independently-backed IFE streaming providers are surfacing at an unprecedented rate in commercial aviation.
Designed for a quick deployment, most of these new systems are being offered to airlines for free or at a fraction of cost of wireless systems from the majors."
AirFi portable wifi
One solution that has been adopted by several airlines recently is MI Airline's AirFi box – a compact, portable, battery-powered and self-scaling wireless local network that is not connected to the aircraft. The system is based around a small box, which can be stowed in a luggage locker – instead of having to be installed in the aircraft.
Thanks to its portability, the AirFi solution is classified as a so-called T-PED (Transmitting Personal Electronic Device) and does not require modification to the aircraft. Hence no lengthy STC (supplemental type certificate) certification is needed. "We provide the box with all the required paperwork so that the airline only needs to [advise] the authorities, change some of their security manuals and do a risk analysis," MI Airline CEO Job Heimerikx told APEX. "The complete process takes one person two days."
At the start of each day, AirFi boxes are placed in crew-dedicated overhead stowage bins and switched on with the push of a single button. At the end of each day, the boxes are offloaded and their batteries are charged as they synchronize wirelessly with a 'proxy box' on the ground.
When the boxes are synchronized, content is automatically updated and user data can be saved to the airline's own network for analysis.
Roughly the size of a shoebox and weighing 1.2 kilograms, the AirFi box runs entirely on battery power that can last up to 15 hours. Two AirFi boxes are capable of covering the entire cabin of a 180-seat B737, while three to four will be used to ensure robust service across a 280+ passenger twin-aisle jet.
"MI created the AirFi box based on research that Internet connectivity is only one of the many features asked for by the passenger. The cost versus the use of Internet has been unfavourable for many airlines, killing the business case before it's even written. With only a fraction of the costs, an airline can now offer more services and entertainment, creating a whole new sales and communication channel," MI Airline CEO Job Heimerikx told Future Travel Experience.
The versatility of the AirFi box hasn't gone unnoticed to MI Airline's launch customers – Estonian Air, Transavia and ArkeFly – who are using the portable wifi network in several ways.
Inflight Entertainment: Estonian Air, Arkefly
Earlier this year, Estonian Air became the first airline to adopt the AirFi box as a wireless IFE system for its small fleet of CRJ900 and Embraer 170 aircraft. Passengers can use the wireless network to access newspapers, magazines, destination guides, play games and instant message with other passengers, The airline says it is also looking to other applications such as non-DRM (digital rights management) content and duty-free shopping. Passengers do not need to download an app to access the inflight portal.
Arkefly – the leisure carrier of TUI Group's Dutch arm – this July will roll out AirFi boxes onboard its fleet of 3 B787, 1 B767, and 5 B737 aircraft to serve as a wireless IFE system that features video content, magazines news, games and seat-to-seat messaging.
Passengers will also be able to pre-book destination activities offered by TUI Group. "The passenger will receive an order voucher and the necessary information is sent to the TUI/Arkefly back office as soon as the aircraft has landed, explains MI Airline's Heimerikx. "Arkefly is also considering the integration of holiday-related offerings from outside partners into their AirFi platform."
Connected Crew: Transavia
This April, Dutch low-cost carrier Transavia has introduced MI Airline's tablet-based 'Connected Crew' solution and installed an AirFi Box on all its aircraft.
The solution provides crew with a mobile point of sale device – equipped with a catalogue, shopping cart, and offline secure payment solution – that uses the AirFi box to communicate with other crew tablets onboard, creating a constant updated sales overview for each flight attendant.
The devices also provide crew with more detailed passenger information and helps to optimise crew productivity as all relevant manuals and forms are stored on the tablet.
Although the inflight entertainment capabilities of the AirFi Box won't initially be available to Transavia's passengers, MI Airline says the airline may introduce this element later this year.
At the airport: Arkefly, Air France-KLM
MI Airline's AirFi box can also used by airlines on the ground, for example to created a dedicated local network in the check-in and gate areas at the airport.
Air France-KLM has trialled the AirFi box at the check-in area at Dubai Airport in order to create a temporary secure wifi network that passengers could use to check in using their smartphones.
And to help passengers pass time while waiting for their flight, Arkefly will be using AirFi boxes at departure gates at about a dozen destination airports, as well as at its main hubs at Amsterdam Schiphol and Eindhoven Airport in the Netherlands.
Through an Arke-branded portal, the AirFi boxes will stream a selection of HTML5 games, chat, newspapers, magazines, videos and other non-DRM content. Passengers waiting for a flight will also have access to the wider internet via a 3G-based internet connection. In the future, passengers will also be able to pre-book excursions for their trip while they wait.
With the AirFi boxes, Arkefly aims to provide passengers with an "airport to airport IFE experience." Therefore, passengers can connect to another AirFi ground network upon landing at their destination airport and download destination-specific information and guides, or discover where to find their ground transport – while waiting for their bags to appear on the carousel.
In the future, ArkeFly may also place an AirFi box on its buses that transfer passengers from their arrival airport to their accommodation as this final part of their journey can take another 1.5 to 3 hours.
"We are thrilled to be helping Arkefly re-define the guest experience," commented Job Heimerikx of MI Airline. "Arkefly has a vision: to be in contact with their guests through whole journey – at every single touch-point."