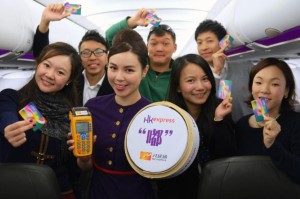 This article is re-published with kind permission of "www.airlinetrends.com".
In many Asian cities, smart cards – prepaid rechargeable contactless payment cards – are a common phenomenon. For example, in Hong Kong, consumers use the Octopus smart card to make electronic payments offline and online. Launched in 1997 to collect fares for the territory's mass transit system, the Octopus card is the second largest contactless smart card system in the world, after South Korea's Upass, and has also led to the development of London's Oyster Card.
Many smartcards in East Asia have a wide variety of uses. For example, besides public transportation fees, the Octopus can also be used for payments in many retail shops in Hong Kong – from convenience stores, supermarkets, fast-food restaurants, parking meters to vending machines. Other systems, such as Suica in Japan, EasyCard in Taipei and EZ-Link in Singapore, can also been used for many non-transportation purposes.
Now, two airlines in Asia are allowing passengers to make in-flight payments with the same smart cards they use to make everyday payments on the ground.
HK Express x Octopus Card
Hong Kong-based low-cost carrier HK Express recently partnered with Octopus Cards to launch an in-flight Octopus-based payment service. Passengers on all HK Express flights can use their regular Octopus card to purchase in-flight items, including food, beverages, discounted transportation and event tickets, and onboard upgrades for HK Express' extra legroom 'sweet seats'.
To accommodate the Octopus card, HK Express obtained new payment terminals with Octopus' sensor technology. To make a payment, passengers simply hold their card near the sensor and within seconds the payment is made.
Commenting on the initiative, HK Express Deputy CEO Andrew Cowen stated, "Octopus is part of the fabric of Hong Kong life and transportation. HK Express is proud to be the first Hong Kong-based airline in bringing this much-loved Hong Kong icon into the skies, offering our guests the ultimate on-board ease and convenience."
All Nippon Airways x Rakuten Edy, Suica, Pasmo
Besides HK Express' initiative in Hong Kong, Japan's All Nippon Airways (ANA) has allowed smart card payments in-flight since mid-2013. ANA first partnered with Rakuten Edy – an independent smartcard brand – for in-flight purchases on domestic flights.
In 2014, recognizing the popularity of mass transit smartcards, ANA extended the contactless payment service to include 9 Japanese public transportation smartcards, including Suica and Pasmo – which are the two most widely-used smart cards in the Tokyo/Kanto region.
Contactless payments
Meanwhile, in the U.S, JetBlue recently partnered with Apple to make in-flight credit card payments more convenient through Apple Pay. This initiative is expected to become popular since credit cards in the United States are used for almost all transactions regardless of value.
In East Asia, however, using credit cards for small amount payments is not popular, with many consumers preferring to using smart cards instead. As smart card companies have been aggressively expanding their systems to non-transportation platforms in recent years, more consumers than ever are using smartcards for everyday transactions.
Says Kai-Chin Shih, founder of Tokyo-based aviation website >talkairlines, "Allowing smart cards on the plane is extremely smart as it provides more convenience to both the passenger and the crew. In my case, I often use the Tokyo metro smart card, Suica, to purchase items at convenient stores. Just a simple 'beep' and the transaction is done, preventing all the mess notes and coins make. On LCCs like HK Express, I believe that smart card payment options will raise flyers' will to make purchases and thus raise the revenue of the carrier. However, I do not think that the method can be applied to traditional carriers' high-value duty free shopping. Most people do not store much money in smart cards and rarely use them to purchase items more than 10 US dollars."