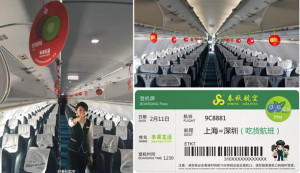 This article is re-published with kind permission of "www.airlinetrends.com".
We have reported several times before how airlines target the rapidly growing middle classes in emerging markets in innovative ways. For example, in Brazil TAM sells tickets via kiosks located at low-end retail chains and at subway stations. The airline also allows customers to pay their ticket in multiple installments and provides 'how to fly' advice to first-time flyers.
In East Africa, airlines such as Kenya Airways and Uganda Airlines have partnered with 'mobile money' providers like M-PESA and Airtel Money to allow people without a bank account to purchase air tickets via their mobile phone, while in the Philippines, Phillipine Airlines lets customers without a credit card book their ticket online and then pay at a nearby 7 Eleven store.
First-time flyers
Another airline that has come up with creative ideas to accommodate the large group of first-time flyers is Chinese low-cost carrier Spring Airlines.
Spring Airlines has trialled a new boarding strategy by using fruit signs to guide passengers – especially those who travel by air for the first time – as seat numbers can be hard to find and can be confusing for those who have little experience in travelling by air.
During the Chinese New Year travel season Spring Airlines was expecting a large number of novice passengers and the airline used a visual solution to help passengers find their seats more quickly and and ease congestion in the aisles.
On February 11, passengers on flight 9C8881 between Shanghai and Shenzhen found 4 different fruit signs printed on their boarding passes which corresponded to the seats in four sections – rows 1-2 (blueberry), rows 3-12 (kiwi), rows 13-21 (apple) and rows 22-33 (tangerine).
Sponsored event
The fruit-based boarding technique was part of an one-time event, sponsored by Benlai.com, a Chinese e-commerce company that sells food (mainly fruits and vegetables). Six other flights from Shanghai to Urumqi, Xi'an, Kunming, Guiyang, Guangzhou and Shijiazhuang were also part of the event, yet passengers on those flights only received fruit and there was no boarding procedure using fruit-based icons.
Spring Airlines says it was actually inspired by the parking lot at Shanghai's Hongqiao Airport, which introduced fruit signs and used them to guide people to their cars.