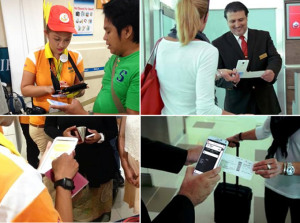 This article is re-published with kind permission of "www.airlinetrends.com".
At the recent Future Travel Experience event in Las Vegas, Eash Sundaram, CIO at JetBlue Airways, rightfully noted that the traditional check-in procedure is very much a "1960s process," and check-in will become an automated activity. JetBlue in July of this year introduced automatic check-in.
In the meantime, however, FTE reports that "the industry has failed to embrace auto check-in en masse, even though it is an important step in the ultimate process change of fully automating and even removing check-in as a distinct element of the travel experience."
Roaming agents
Nevertheless, as many passengers today feel no need to use the traditional full check-in process with staffed airport desks, opting for self-service – either online or via airport kiosks – instead, there will be fewer staffed desks. Instead, for passengers who need assistance there will be roaming airline agents equipped with tablets to assist passengers.
Currently, a limited number of airlines – including American Airlines (YADA), United, Iberia (IBHelp), Air France, easyJet (Halo) and IndiGo – have deployed 'mobile agents' to help passengers check in or rebook.
Emirates 'Journey Manager'
Emirates has empowered its airport staff with a mobile application called Journey Manager wich enables them to get real-time information regardless of where they are in the airport. Developed by Emirates in cooperation with Samsung and Etisalat, Journey Manager runs on the recently launched Samsung Note 4 smartphone.
Emirates' managers and supervisors can use the application to check the status of both inbound and outbound flights, which helps them to assess potential areas of concern and better manage operations, especially in the event of a disruption.
"The size and scale of our operations at the airport can be a challenge, especially during peak times where we can see up to 140 departures and arrivals in a four hour window," said Mohammed Mattar, Emirates' divisional senior vice president, airport services.
Transit passengers
Emirates airport staff use Journey Manager at the transfers area to assist transit passengers. Up to 20,000 transit passengers go through transfers desks during peak times in a six-hour period, with 40 percent of these customers queuing to get information about which gates their next flights depart from. By scanning a passenger's boarding pass using the device, staff can readily provide customers the most up-to-date information on gate assignments – reducing the need for people to queue.
Transfer staff are also using the application to check on delayed flights or where passengers have short connection times. The application allows staff to identify these passengers and pass on the information to the gate supervisor at the connecting flight. For passengers who have missed their connections, staff can scan the boarding pass to see what flight re-bookings have been made and direct them accordingly.
Real-time information
According to Mattar, "Before Journey Manager – most of these functions were done through transactions behind a desktop, and information retrieved from printed reports, which only capture status updates at the time that they were printed. With the ability to quickly scan a passenger's boarding pass and access "live" flight information – our staff are able to find on time solutions and make decisions."
Over the coming months, Emirates will roll out the Mobile Journey Manager among its 2,400-strong airport staff and include check-in, re-booking flights, and requests for seat change functionality.
Cebu Pacific 'Agent Xpress'
In Asia, Philippines-based low-cost carrier Cebu Pacific has recently equipped its customer-facing staff with tablets, so they can roam the terminal, check-in passengers and print their boarding passes remotely. The airline says it is the first carrier in south east Asia to deploy such a service.
Dubbed 'Agent Xpress', roaming agents carrying a tablet approach passengers queuing in the security or check-in line at the airport, verify their Cebu Pacific booking, name, and flight details, and then print their boarding passes on the spot.
The tablets also enable agents to verify travel documents on the spot for passengers bound for international destinations, and passengers can check in individually or as a group for one-way or connecting flights.
Cebu Pacific has initially introduced the roaming agents service at KaliboAirport – which is the gateway to the tropical island of Boracay – at the end of August. The airport was chosen as the launch site due to the high volume of leisure passengers and the limited availability of counter space. The airports of Cebu, Iloilo, Bacolod and Manila will be next.