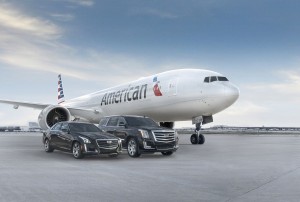 This article is re-published with kind permission of "www.airlinetrends.com".
At airlinetrends.com we cover the global airline industry looking for innovative product and service ideas that differentiate the airline experience and have the potential to spread across the industry – thereby shaping customer expectations.
One good example of such an innovation are the partnerships that airlines are forging with consumer brands in other industries – think Starbucks, Samsung, Westin, Hastens or Mercedes – in order to improve the passenger experience.
Co-branding initiatives are also an economical way to provide a premium service as consumer brands are increasingly willing to pay airlines to let passengers experience their product in a relevant setting, since airline passengers are an interesting demographic.
Delta x Porsche and United x Mercedes
In the spring of 2012, Delta has partnered with Porsche at its Atlanta hub to shuttle its most valuable passengers with tight transfer times to and from the aircraft in vehicles provided by Porsche free of charge.
In return, Porsche has placed information about the cars inside the vehicles as well as in Delta's lounges. The 'branded service' has been expanded last year to New York JFK, Los Angeles and Minneapolis St Paul airports.
United Airlines since June 2013 shuttles some of its First Class passengers and Global Elite members around the tarmac using Mercedes Benz cars. The program launched with two Mercedes cars at United Houston hub and following the roll-out of the service at Denver Airport last month, United says it now offers the Mercedes tarmac service at all of its U.S. hub airports.
American Airlines x Cadillac
As the major full-service carriers in the U.S. are busy upgrading their premium passenger experiences, American Airlines is following suit and just announced a partnership with Cadillac to offer a series of benefits to AA passengers, ranging from luxury, on-site airport transfers, to AAdvantage miles earning opportunities, to Cadillac exhibits at major airports.
American and Cadillac currently offer the luxury airport transfer program at Los Angeles International Airport (LAX).
This program identifies ConciergeKey members with tight transfer times and escorts them to their next gate of departure in a Cadillac CTS, SRX or Escalade. The program will be expanded to New York's LaGuardia JFK airports by the end of the year as well.
In addition, members of the airline's AAdvantage program will be able to earn 7,500 miles later this month by test driving a new Cadillac, and American will place Cadillac models on display at major airports.
"American and Cadillac are two iconic American brands, both in the process of redefining the contemporary American luxury experience," said Suzanne Rubin, president, AAdvantage Loyalty Program. "This is just the beginning of the opportunities we see with our partnership with Cadillac."