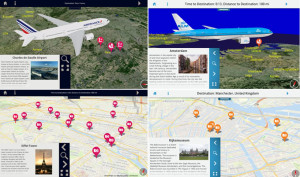 This article is re-published with kind permission of "www.airlinetrends.com".
One of the most popular sections of the IFE system is the moving map. Compared with the two-dimensional maps that are still found on the IFE systems of almost any airline, the latest maps now offer the option to deviate from the flight path to look at specific land marks and zoom into ever greater detail – Google Earth style.
Dubbed geotainment, this location-triggered content displays geographical and historical information relevant to the location of an aircraft on, or around, its flight path. Says Boris Veksler, CEO of Betria Interactive – which has developed the FlightPath3D geotainment app: "Travel is exploration. Delivering informative destination 'geotainment' services gives the passenger a form of discovery in anticipation of their arrival. It is natural and engaging extension of the moving map."
The deployment of geotainment-based flight maps is still in its early stages. On its fleet of B787s, Norwegian features a geotainment app on its IFE systems from FlightPath3D on the moving map channel, while Singapore Airlines has become the first customer to sign up for a new 'geo-entertainment' product for moving maps developed by Airborne Interactive in association with the Royal Geographical Society.
Delta, meanwhile, in early 2013 added a 'Glass Bottom Jet' geotainment feature to its 'Fly Delta' iPad app. On flights in North America passengers can use their own device to view the ground below via maps enriched with interesting information on various points of interest near the route. Passengers do have to be connected to the paid onboard Wi-Fi network though.
Air France KLM
Air France and KLM have also become early adapters of the geotainment trend. The airlines have selected FlightPath3D to deliver their next generation moving map and 'geotainment' service.
Passengers can follow the flight path as their trip progresses and learn more about points-of-interest during their journey via text and images. They can also choose from several interactive 3D views or use free roaming mode to investigate the world they are flying over.
The FlightPath3D app for Air France and KLM is available on the newly installed high-definition seat-back touch screens in all classes. Passengers in Business and First can also use a new touchscreen video handheld – either as a remote control of the main screen, or as second screen to use the application in broadcast mode.
Air France and KLM's geotainment offering includes 25,000 named locations across the world in up to 12 languages. The city destination guide initially covers 36 destination cities and will expand over time to cover many more Air France KLM destination cities with detailed, street level city maps and rich, multi-media point-of-interest information.
The new service recently launched on the first of Air France's updated B777 fleet. KLM will also be offering the FlightPath3D service on board its upgraded aircraft from November 2014.
FlightPath3D
FlightPath3D has been developed by Betria Interactive and the company seems to be doing well. Following the initial launch of its geotainment product on Norwegian last year, Air France is the second launch and KLM the third announced airline, with a 4th carrier to be announced soon.
The company says it is in detailed talks with as many more clients and also has multiple partnership deals in the works or signed were it will be the default platform map product. FlightPath3D currently supports both Linux and Android platforms and an iOS version is in the works, as well as a HTML5 wireless product for passenger devices.