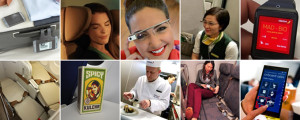 This article is re-published with kind permission of "www.airlinetrends.com".
At airlinetrends.com we continuously monitor the global aviation industry for product and service innovations launched by airlines in response to cultural, technological, and economic changes that influence airline customers' needs and expectations.
The product and service innovations that we report on our website aim to show how airlines can come up with creative solutions with the aim to improve the passenger experience, increase revenues and/or lower costs.
For those who have been too busy to keep track of the latest airline product and service innovations, here the 10 articles that we believe are among the most interesting product and service introductions in the first six months of 2014.
10 product and service innovations first half 2014
1. Air France-KLM's 'e-tag & e-track' turn suitcases into connected devices
Air France, KLM and partners have developed a novel electronic bag tag and baggage tracker that enables passengers to label their luggage at home, drop bags at the fast bag drop and trace their luggage in real-time. The service will be introduced at the end of 2014. Read article »
2. Smart design: Fixed headrest support on Etihad's new Economy seats
Hidden inside the press storm caused by Etihad's announcement of its luxurious new A380 comes a smart design innovation of the airline's new Economy seats. Etihad's so-called 'Economy Smart Seats' feature a 'fixed wing' headrest, designed to provide a firm surface for passengers to lean on while sleeping. Read article »
3. Virgin Atlantic launches Google Glass and Sony Smartwatch 'wearable tech' trial
Virgin Atlantic has started a six-week trial together with airline IT provider SITA to learn how wearable technologies such as Google Glass and Sony Smartwatch could improve the passenger experience and speed up the check-in process at its London Heathrow lounge. Read article »
4. Chinese low-cost carrier Spring Airlines first to equip cabin crew with Google Glass
Following an earlier initiative by Virgin Atlantic to trial Google's wearabla smart glass, Chinese LCC Spring Airlines has equipped flight attendants with Google Glasses on a flight from Shanghai to Chengdu, becoming the world's first airline to deploy the device inside the cabin. Read article »
5. Iberia and airberlin latest carriers to develop smartwatch boarding pass
Airlines are teaming with consumer electronics firms to trial the latest wearable tech. Following the recent launch by Vueling and Sony of the first smartwatch-based boarding pass, Iberia and airberlin have announced their own initiatives, partnering with Samsung and Pebble respectively. Read article »
6. Philippine Airlines introduces 'layered' Business Class seat on its A330s
Philippine Airlines is the launch customer of Sogerma's new Equinox 3D seat, which decrease the default pitch in a full-flat Business Class seat by raising one seat above the other when moving to the bed position. PAL is also the first full-service carrier to remove all IFE screens from its A330 widebodies, including those in Business Class, offering passengers wireless-only IFE&C instead. Read article »
7. India's low-cost carriers get creative with their buy-on-board food packaging
Along with basic objectives such as protection and preservation, clever food packaging appeals to consumers' emotions and brings a product alive. Two great examples of attractive and fun packaging can be found in India, where low-cost carriers JetKonnect and IndiGo have come up with quirky buy-on-board ranges. Read article »
8. Servair chefs make a weekly 'surprise' appearance onboard an Air France flight
Air France and its catering subsidiary Servair have launched a new initiative which sees a Servair chef boarding a long-haul Air France flight once a week in order to add a culinary touch to the inflight experience, gather direct feedback on the menus served, and train cabin crew on the spot. Read article »
9. China Airlines unveils 'Family Couches' on its upcoming B777-300ERs
Taiwan-based China Airlines is the second airline to install Air New Zealand's innovative Skycouch. Renamed as Family Couch, China Airlines will install the seats – which can be turned into a small bed – in ten rows on the right-hand side of its Economy Class. Read article »
10. Delta upgrades cabin crew from Nokia smartphones to connected 'phablets'
Following the provision of Nokia Lumia 820 smartphones to its entire crew last year, Delta will replace the devices with with larger Nokia Lumia 1520 'phablets' later this year, saying the new devices are meant to serve as a platform for future, more personalized in-flight customer service. Read article »