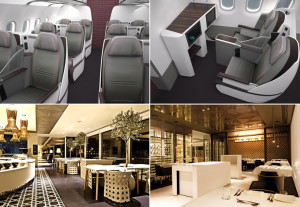 This article is re-published with kind permission of "www.airlinetrends.com".
Qatar Airways has announced the launch of a new daily all-premium Business Class service from its hub in Doha to London Heathrow.
Mirroring the Business-only product currently run by British Airways from London City Airport to New York JFK, the new service will be the first of its kind in the Middle East and will commence on 15 May 2014.
Qatar Airways will fit an A319 aircraft with an all Business Class, single aisle, 2–2 seating configuration offering 40 seats – slightly larger than the 32 seats on BA's A318 that operates the LCY – JFK route.
Full-flat bed, big-screen IFE, connectivity
The full-flat seat – similar to the one found in Lufthansa's new 747-800 cabin, or Delta's new transcontinental Delta premium product – is configured as pairs of seats, slightly angled away from the aisle, meaning a modicum more privacy, but really only ideal for those traveling in pairs.
A nice touch on the narrow body A319 is the provision of a big-screen entertainment system with more than 900 movies, TV shows, and video games to choose from, as well as the ability to SMS from the air to those on the ground, enabling people to keep in touch.
Passengers on the Business-only jet also have access to Qatar's Premium lounge in London Heathrow's T4 and the airline's Premium Terminal in Doha.
Qatar Airways currently operates five daily flights to London Heathrow and the additional sixth all Business Class daily service means the airline will step up the frequency on the Doha – London Heathrow route from 35 to 42 weekly services.
The work-friendly schedules see flights departing Doha at 1450 and arriving in London at 2025 (QR015) and the return flight will depart 2155 and arrive in Doha 0640 the next day.
Qatar Airways' Different Aircraft
We always love an all-Business cabin product, however, the seat product varies again from a myriad of different seats available on the airline, meaning that passenger comfort in the air can vary depending what aircraft you fly on the London route, which currently is serviced by a 777, A330, 787 and now A319.
It still hasn't been officially announced if the A380 will fly the LHR route too.
We feel the A319 a good option, although the Qatar's B787 – with it's all-aisle access and larger more private suites – may be a better option for Business Class. But this quieter cabin will be a step up from the angle flat beds found in their 777 and A330 fleet.