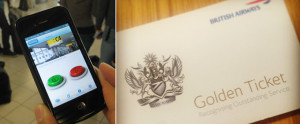 This article is re-published with kind permission of "www.airlinetrends.com".
Social media has provided passengers with a powerful platform to voice their opinion on the experience they have with airlines.
In response, airlines have become one of the most active organizations that actively monitor the online conversation in order to pro-actively take actions to correct issues if needed.
However, instead of just waiting for passengers to share their experiences (both good and bad) online, several airlines have also started to encourage passengers to provide their feedback about the service they encounter in real-time.
KLM 'Feedback App'
We have reported before on KLM's mobile 'Feedback' app that allows the airline's passengers to give real-time feedback on how they perceived the experience at a specific area (check-in, lounge, boarding, arrival) at one of 13 participating airports the airline's network.
The rating consists of simply tapping a 'thumps up' or 'thumbs down' button, but passengers can also specify their rating with a comment. Meanwhile, KLM team leads and station management at participating airports have been equipped with iPads that enables them to monitor the feedback in real-time, so they can react on passenger feedback immediately if needed and possible.
United 'Outperform Recognition'
Following its merger with Continental, United Airlines launched a a service recognition program, called 'Outperform Recognition' in mid-2012, that invites United MileagePlus members to submit up to five nominations every four months through a variety of channels, including United's mobile app, mobile website and Facebook page.
Each period the airline selects 101 eligible employees randomly from the pool of eligible submissions, who receive a financial bonus of between USD 2,500 and 50,000. The first edition of the program (second half of 2012) received over 9,000 nominations.
The option to recognize excellent service through the mobile app [screenshot] is the most innovative part of the initiative as it provides passengers an easy way to express their satisfaction on the spot and in real-time – especially since United has equipped the majority of its domestic fleet with inflight.
The outperform recognition program ended at the end of June this year, but United says it may hold another campaign in the future.
On a similar note, American Airlines provides a recognition feature on its latest mobile app, but this feature is available only to Executive Platinum members of its frequent flyer program.
British Airways 'Golden Ticket'
British Airways takes a more low-tech approach to improve staff service and boost employee morale by rewarding outstanding customer service as part of the airline's efforts to help deliver its 'To Fly. To Serve.' positioning.
BA's 'Golden Ticket' scheme sees its "high value" customers (Gold and Premier members) given two golden tickets, personalised with the frequent flyer's name and Executive Club number on the back, which they can hand over to recognise individual employees for excellent services.
It is not clear whether crew that get a lot of compliments actually get rewarded by BA, other than being told well done. However, as one BA crew member said, "It is the fact that someone has taken the time to give me one that makes it good. It makes you feel that your effort was noticed."
According to a comment on Flyertalk: "A lot of cabin crew on all the fleets are very happy to receive Golden tickets or complimentary letters, both are always lovely to receive. BA are in the process of devising ways to reward crew for receiving lots complimentary letters, Golden Tickets and recognition from collegues but it won't be in a monetary way."