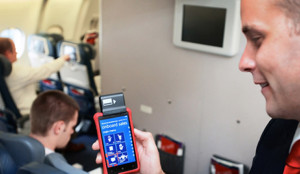 This article is re-published with kind permission of "www.airlinetrends.com".
Equipping airline cabin crew with tablets and smartphones is the latest step in continued efforts by airlines to increase their onboard retail revenues.
Since the end of 2012, American Airlines has been equipping its 17,000 flight attendants with Samsung Galaxy Note handheld devices, saying trials revealed that crew liked the fact that they could hold the device in one hand and easily slip it into a pocket – which is not always possible with a larger tablet.
Besides being a means to provide crew with the latest passenger information, American uses the devices for onboard transactions such as the purchase of food and beverages inflight.
Meanwhile in the US, low-cost carrier Allegiant has provided its cabin crew with iPads that feature the FlyDesk app from its subsidiairy Allegiant Systems, while in Europe TUI (Arkefly) has deployed MI.Airline's Connected Crew solution using 7-inch Samsung tablets.
Delta x Nokia Lumia
The latest airline to provide its crew with a next-generation point-of-sale (POS) device is Delta Air Lines.
The airline at the end of August started the roll-out of Windows Phone 8-based Nokia Lumia 820 handheld devices to flight attendants (or inflight professionals as Delta likes to call them) around the world in an effort to streamline the process for purchasing items on board and to put key flight information at their fingertips.
Under the agreement, AT&T will equip more than 19,000 Delta flight attendants with Nokia Lumia devices powered by Microsoft Dynamics mobile point-of-sale platform on Windows Phone 8, with a Delta-specific customer experience developed by Accenture-subsidiary Avanade to operate over Wi-Fi and AT&T's 4G LTE Network.
Flight attendants began testing the Nokia smartphones during flights in June 2013 and in-flight trials have shown that the new solution is already around 10 percent faster than Delta's previous systems.
Says Michael Griffiths, Global Managing Director, Retail and Distribution, Microsoft Dynamics, "The company decided to make the move after running into significant challenges with the limitations of its legacy point of sale devices. Yes, they could capture transactions for food, headphones and duty-free items. But they were bulky. They had to stay on the plane. They were costly in terms of maintenance. Information had to be uploaded from them manually. They did not have high-speed wireless connectivity. There simply wasn't a lot of additional value they could drive beyond basic, transactional interactions, and even those were suboptimal." 
Onboard retail
For now, the focus of the new handhelds is predominantly on onboard transactions such as on-board purchases of food and beverages and upgrades to Delta's Economy Comfort seating.
Besides quicker transaction handling times, the Nokia devices will also allow for (near) real-time credit card processing and passengers making a purchase will have a e-receipt emailed to their account on delta.com.
As the service develops, Delta says it will add the ability to read coupons displayed on a customer's mobile device.
Connectivity
APEX reports that Delta Air Lines' flight attendants are also able to access Gogo inflight Internet – supporting (near) real-time credit card transactions and other applications.
Delta has more than 800 aircraft equipped with high speed wireless internet — the most in the industry.
The ability to support real-time credit card transactions will reduce the fraudulent charges incurred by Delta, which would open up new revenue streams for Delta, as the carrier could conceivably sell more expensive items on board its aircraft.
Analytics
According to Microsoft and Avanade, Delta's new mobile point-of-sale platform will allow the airline to not just capture transactions, but also develop insight into the customer, as the application provides a view including historical data, past flight history, loyalty status, etcetera.
Onboard service
Delta also expects to provide flight attendants with customer-specific information, such as frequent flyer information, connecting gate updates, in order to enable more personalized service and provide passengers with up-to-the-minute flight, weather and connection information.
The airline will also store manuals and important reference documentation on the device to virtually eliminate the need for printed materials.
Personal use
Microsoft and Avanade also mention that the Windows Phone 'Live Tiles' interface provides flight attendants with the latest information at a glance, including crew scheduling updates, flight tracking information from the Delta Fly app and local weather details.
The device also comes with Microsoft Office and Outlook email.