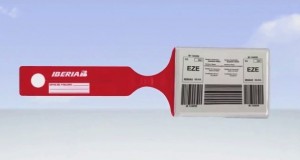 This article is re-published with kind permission of "www.airlinetrends.com".
Iberia this week became the world's first airline to allow passengers to download and print their own luggage tags from its website.
Rather than queuing up at an airport desk or kiosk, the service – which is called MyBagTag (video) – lets passengers can print their bag tags onto a standard A4 sheet of paper.
Passengers checking-in online at iberia.com specify the number of bags they wish to check-in, and then download, print, and attach the tags themselves, having folded the printer page into quarters and place it into a plastic cover which is then attached to the bag.
The pre-tagged luggage is then checked-in at fast bag-drop counters at Iberia's T4 hub in Madrid-Barajas airport. The reusable plastic envelopes for holding the tags can be picked up at any Spanish airport.
The MyBagTag service can be used on Iberia, Iberia Express, and Air Nostrum point-to-point flights to/from any domestic destination. Iberia says the service is soon to be extended to the airline's European and overseas destinations and, eventually, to cover flights with connections.
Dimitris Bountolos Montabes, Iberia's vice president of customer experience, tells Future Travel Experience that passengers who have any reservations about the reliability of printing their own bags tags should rest assured that the service is entirely dependable.
"Throughout the trial process, My Bag Tag had a 100 percent read rate. It has been tested in Madrid, Malaga, Palma de Majorca, Barcelona and Alicante airports and there have been no problems at all with the reading of the tags. It is proven to be completely reliable."
One of the key reasons for this high level of performance is the fact that the bar-code is printed on both sides of the tag, therefore removing the risk of it being incorrectly attached to the bag.
Iberia: Project Ágora
The MyBagTag initiative is part of Iberia's Ágora project, intended to improve flight punctuality, efficiency, and the quality of customer experiences at airports.
Other innovations recently introduced under the Ágora program include hologram-based check-in agents – whose main objective is to draw the attention of passengers and encourage them to use kiosks 'check-in' and avoid the queues (video here) – and so-called 'Quick Service Points' – self-service kiosks that passengers can use to report lost luggage or to obtain new boarding cards when they have missed a connecting flight.
British Airways
Iberia's MyBagTag introduction follows fellow IAG carrier British Airways plans to trial an electronic bag tag which could remove the need for a new paper tag each time a traveler flies and speed up passenger check-in times at the airport.
Passengers can update the digital suitcase tag to display their flight information by holding their smartphone over the tag after they have checked in.
The tag will then be automatically programmed with a unique bar-code containing flight details and an easy-to-see view of their bag's destination. The tag is then scanned where bags are dropped off.
Billund Airport
Although Iberia is the first airline to let passengers print their own baggage tags, the overall 'world's first' title goes to Billund Airport in Denmark.
Since October 2012, passengers departing from the airport can print their bag tags at home together with their boarding pass.