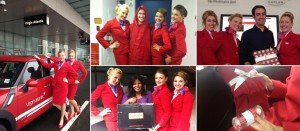 This article is re-published with kind permission of "www.airlinetrends.com.
Airline marketing is undergoing a phase that's exceedingly exciting, unpredictable and creative.
Faced with ever more experienced consumers, who routinely ignore the commercials and ads thrown at them, airline brands are finding new ways to break through the advertising clutter to reach and engage consumers.
Surprise
We have seen airlines such as Virgin America, Delta, Brussels Airlines, SAS and airBaltic use the luggage belts in the baggage claim area to surprise passengers with free gifts to celebrate Christmas, Easter or Valentine's Day, while LAN has surprised patrons of restaurants in the US with a free ticket.
Effective airline marketing today employs a hybrid model.
The pervasiveness of Internet and social media users almost necessitates the adoption of marketing tactics that involve both the online and offline spaces. Even when the real initiative happens offline, airlines, more often than not, depend on their online audience to spread the buzz.
For example, combining social media with real-world interactions, KLM a few years ago created a 'Surprise Team' at Amsterdam Schiphol Airport that randomly surprises passengers that have checked-in at KLM venues on Foursquare with 'little acts of kindness.'
Virgin Atlantic '#FITFOO'
Recently, Virgin Atlantic started it's new advertising campaign, and similar to British Airways' 'To Fly. To Serve.' campaign, the strapline 'Flying in the Face of Ordinary' is less of an advertising slogan, and more of a company philosophy.
Virgin Atlantic have now taken this to the next level to prove it's not just a saying, but a belief.
In March, the airline took to the streets of Boston to brighten up an otherwise grey and rainy day.
Scouring social networking site Twitter, Virgin Atlantic hunted for @VAAintheUSA followers to provide them some one-on-one attention to add a splash of color to their lives.
A team of Virgin Atlantic cabin crew in a bright red Mini Cooper visited Bostonians in need. Some people received cupcakes, one a bright red poncho to keep the rain away, and others had anything from a pair of hunter wellington boots to bright red scarves and mittens, and even brought a packed lunch to one worker in a furniture showroom.
The campaign started in Washington D.C. before heading to Boston, and Virgin Atlantic have also recently taken to the streets in New York. The direction Virgin Atlantic has taken, focusing on personal attention, whilst limited in its audience interaction, has a much higher impact than most other marketing campaigns.
For example, one blogger, who experienced the campaign first hand, receiving 100 cupcakes for himself and his work team said "If the goal of this program was to make an impression with the culture of Virgin Atlantic and make people want to fly with them, it has certainly worked. You will never find me paying a lot more to fly with a certain airline, but if it is a matter of a couple of dollars, I will definitely choose Virgin Atlantic for my future travels."