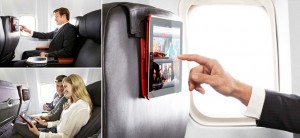 This article is re-published with kind permission of "www.airlinetrends.com".
Airlines around the world are responding to the explosion in passenger use of smartphones, notebooks, tablets and e-readers – plus the increasing expectation that these devices can be connected inflight – by incorporating power sockets and USB ports in aircraft seats (including Economy) and introducing onboard Wi-Fi.
Furthermore, several carriers have also introduced wireless inflight entertainment (IFE) systems.
These new developments result in the emergence of an alternative eco-system to today's traditional seatback-based  IFE systems, which sees tech-savvy passengers bring their own digital devices (or airlines providing tablets), and connect them to an onboard server to stream content from it.
Qantas 'Q Streaming'
The lastest initiative in this field comes from Australian airline Qantas, which is the first airline in the world provide all passengers on its refurbished fleet of 16 Boeing 767s with free use of an iPad during the flight, which can be connected to a wireless IFE system.
Following a trial earlier this year, Qantas' so-called 'Qstreaming' service, which is based on Panasonic's eXW system, gives passengers access to more than 200 hours of on-demand content.
More on Qantas' Q Stream system in this report from Australian Business Traveller.
iPad holder
Australian Business Traveller also reports that the new seats on Qantas' refurbished 767s have been fitted with a special iPad holder built into the upholstery.
Each of the Qantas-issued iPads, which all 254 passengers can find in the backseat pocket, comes with a flipcase which folds back and slides into a slot on the headrest, so passengers can continue to watch their  movie or TV show 'hands-free' during meals. Passengers who carry their own tablet should also be able to slot in their own devices.
Jetstar
Qantas' introduction of tablet devices as IFE on part of their fleet follows last year's launch of a 'rent-on-board' service by the airline's low-cost subsiidiary Jetstar.
Passengers on Jetstar flights longer than 90 minutes can opt to rent an iPad for a fee that varies from AUD 8 to 18, depending on the length of the flight and the amount of entertainment content stored.
Jetstar has also fitted the iPads with a purpose-built case which includes a bracket that lets passengers hang the device at eye level onto the seatback pocket.
For more on how airlines are offering passengers a convenient space to place their personal devices, see airlinetrends.com's recent article for Onboard Hospitality Magazine:
'How tech-toting travellers are influencing airline seat design' (pdf).