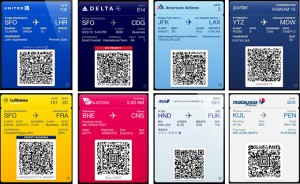 This article is re-published with kind permission of "www.airlinetrends.com".
Keeping in tune with the evolving technology habits and preferences of the "always-connected traveller" that make up an ever-increasing portion of the flying public, a number of airlines from around the globe have rolled out mobile boarding passes that are compatible with Apple's new Passbook functionality.
Apple Passbook
Rolled out in mid-September with the new iPhone 5 and iOS6 operating system, Apple's new Passbook feature is a 'digital wallet' capable of storing boarding passes, movie tickets and membership cards.
Passbook is designed to centralize the storage and accessibility of these items from a single program managed directly built into the operating system (OS), which eliminates the need for the user to drill into individual apps (or e-mails) to find the relevant pass or coupon for the situation or transaction. Passbook is supported by iPhones dating back to iPhone 3GS.
Apple has created a number of templates that allow developers to quickly and easily create passes for integration into Passbook. Thanks to the ability of Passbook to use time and geographic location triggers, users see their boarding pass appear on the lock screen at the appropriate times and locations.
For an airline passenger, this would mean that upon arrival at the airport, a clean, bright image of their their boarding pass will appear on the screen and can be updated to include such things as a gate change or a change to seat assignment.
As for other possible uses of Passbook, the functionality may provide better avenues for airlines to better proactively manage and disseminate timely information to flyers, such as pushing suggested rebooking options, updated baggage tracking information or certain types of reimbursement vouchers or storing coupons for ancillary services such as premium lounge access.
Airlines and Passbook
Eight airlines have adopted Passbook sofar, and it is expected that many others will follow suit as Passbook achieves growing consumer acceptance and use.
The most straighforward way airlines can become Passbook-compliant is by making an updated version of their regular app available in the Apple iTunes store.
American Airlines and United Airlines are among the first airlines to launch an updated version of their apps which includes support for Passbook integration. In Europe, Lufthansa at the end of September became the first European carrier to update its app to allow for Passbook support.
Once the passenger completes the mobile check-in procedure, the boarding pass is automatically transferred to Passbook. The airline expects to integrate the update functionality into Passbook by the end of the year.
Delta Airlines and Malaysian Airlines, meanwhile, have both announced they will follow shortly with Passbook-compliant apps.
Other airlines have opted not to integrate their mobile apps with Passbook (yet) and have launched solutions that make use of sms and email.
For example, Virgin Australia passengers are sent a SMS link to their boarding pass upon completion of their mobile check-in. When they click the link and open their boarding pass a pop-up window asks them to add their boarding pass to Passbook. Virgin Australia has come up with a nice feature that colour-codes the Passbook boarding passes according to passengers' frequent flyer status.
In Canada, passengers of 'no-frills chic' regional airline Porter Airlines are sent an email to their smartphone that has a 'add to Passbook' button. Selecting this option will automatically add the ticket to the Passbook on their phone. In Japan, All Nippon Airways seems to have opted for a similar approach (the airline only offers Passbook for domestic flights only).
Update 28 October 2012
Air Canada is the latest airline to introduce support for Apple Passbook. Similar to Virgin Australia, passengers are sent a unique URL via text message after the purchase of their airline ticket. Clicking the url directs them to a page where a Passbook version of their boarding pass appears on the screen with the option to 'add' it. Once added, the ticket sits within Passbook and is ready to be used.