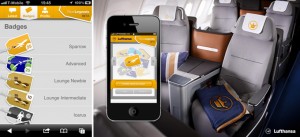 This article is re-published with kind permission of "www.airlinetrends.com".
Lufthansa's "Blue Legends" Facebook app is one of the first ten "Connected Apps"to be offered as a product of Foursquare's new development platform.
In a nutshell, Foursquare now allows developers to create apps that offer customized experiences to customers based on their check-ins.
Lufthansa has seized this new opportunity in the Foursquare eco system to create official Lufthansa venues (including over 9,000 flights named in the format "Lufthansa Flight LH 400″) where users can check-in virtually to get special badges, ranks and rewards.
For instance, once connected with Foursquare and Facebook, you can earn badges such as the "Early-Bird-badge" by checking in before 6 in the morning. There are more virtual goodies as you fly more on Lufthansa (and, of course, remember to check-in to their official locations).
One of the undeniably attractive features of the app is that its written in HTML5 which allows it to be accessed from almost every platform – desktop and mobile – with ease, without being confined to a closed app ecosystem (such as iOS or Android).
An increasingly "gamified" and location-aware world
As you move up the ladder, you'll find that the badges and ranks (similar to mayorships) are increasingly targeted towards frequent flyers.
Lufthansa believes that this customized experience by offering special virtual badges in recognition for flying the airline will "open a whole new dimension of social travel experience for frequent flyers who can not only track their countries and airports they've visited with the app but can compete with their friends to become the "Expert Pilot" on a route between two cities."
This rank is given to the person who has travelled most between two destinations – independent from the Lufthansa flight he took or airport of the city he travelled to.
This app is, in fact, the latest in a series of app-based initiatives by airlines that are looking to drive specific business goals by gamification of the social ecosystem.
Not just that, linking these apps very closely with location has made it possible for airlines to track and drive loyalty in customers by offering rewards for virtual actions. At its essence, this is what gamification for driving business goals is all about. What is a game after all but a fun activity with some inherent rewards for those participating in it?
Witness the success of Estonian Air's social loyalty Facebook app AirScore (the first initiative of its sort in the world). The app rewards virtual advocacy (eg. writing a review, sharing photographs) with points that can be redeemed for real-world rewards.
So how does Lufthansa's app seek to make a difference?
Essentially, the gamification aspect of this app lies in its having leaderboards for those who fly it the most.
Given that being a frequent flyer (especially for business) can be a thankless experience, offering customers a reason to be proud of their flying so much, is a smart move. In a way, it seeks to make Lufthansa's passengers more involved with the brand when they fly.
But most importantly, it will probably make customers want to keep flying Lufthansa just to get badges only a few can flaunt as well as to see their names displayed on a public leader-board on a widely used social-network.
Disclosure: Lufthansa is a past client of SimpliFlying, having taken our MasterClass last year, which focused on building loyalty and the future of location-based technologies.