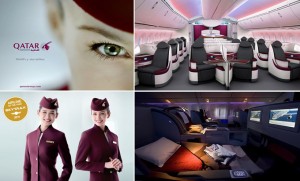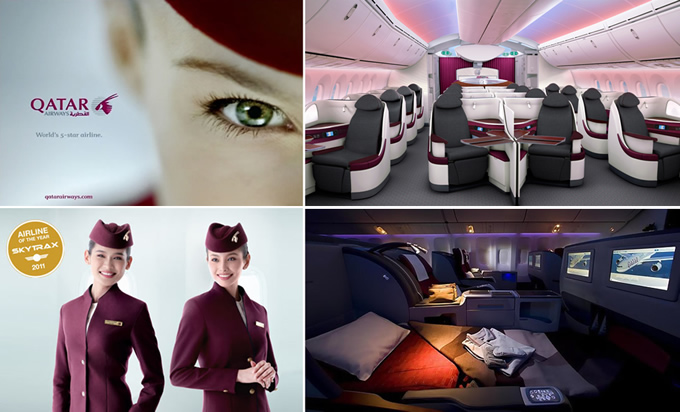 This article is re-published with kind permission of "www.airlinetrends.com".
With the Gulf Region having firmly anchored itself as a global aviation crossroad, it comes with little surprise that Qatar Airways is on our list of airlines to watch in 2012.
The national carrier of Qatar has experienced a rapid ascent to become one of the few '5-Star Airlines' in the sky and was named "Airline of the Year 2011" by Skytrax – which cited its roomy Economy cabin and Business Class product – including the Premium Terminalat its Doha hub – as key drivers for the ranking.
Compared with Gulf-based competitors Emirates and Etihad, Qatar Airways takes a more low-key approach in designing its passenger experience.
Says the airline's CEO Akbar Al Baker in an emailed statement to airlinetrends.com, "We believe that our key innovation is not so much one particular product or service, but rather our commitment to blending the latest technologies, trends and styles with the best aspects of air travel as it used to be, including plenty of space, inspiring cuisine and a warm, personal service. We provide an experience, not sell a commodity."
Continuous Al Baker, "Although our premium seats offer a high degree of comfort and privacy we do not see the need to feature gimmicks such as walls or doors in any of our designs."
Onboard Experience
Qatar Airways' fleet of widebody aircraft offer a Business Class product that features 180 degree flat bed seats in a 2-2-2 configuration, a seat pitch of 78 inches, 15 inch IFE screens (17"on its B777s) with over 1,000 entertainment options, and a-la-carte dining with all meals prepared at time of order.
In Economy, the standard seat pitch is a minimum 32 inch (which is one inch more than on many other airlines).
Passengers also receive a complimentary toiletry pouch and the airline has teamed up with wellbeing guru Deepak Chopra to produce a 'Tips to Fly Healthy' guide that can be found in the seat-back pocket. All seats also offer in-seat power and a 10.6 inch IFE screen.
B787 Dreamliner
Qatar Airways expects delivery of its first Boeing 787 in June 2012 (it plans to have five 787s in service by the end of the year) and the airline will be the launch customer in the Middle East for the aircraft. Qatar will initially operate the 787 on intra-Gulf routes to provide flight crew with training hours before it will deploy the aircraft on the Doha–London Heathrow route in late August. Bloomberg reports that Qatar also plans to start flights to Atlanta, Chicago, Boston and Detroit within the next year as it begins receiving its 787s.
Qatar's 787 Dreamliner will seat 254 passengers in a two-class configuration with 22 seats in business class and 232 in economy. In Business, a generous 1–2–1 configuration provides each passenger with direct aisle access. The airline has also opted to remove the overhead luggage bins from the middle of the Business Class cabin, providing an even more spacious feel. The flat-bed Business seats are made by B/E Aerospace and are placed in a reversed herringbone formation, which angles the two middle seats towards each other, while the solo window seats offer a high degree of privacy.
Armrests of the seat can be adjusted to different heights and passengers can dine and work on large, wood-trimmed sliding tables – and when dining begins, passengers have room to rest their laptops on side tables. IFE screens have a size of no less than 17 inch.
Seats in Economy are configured 3–3–3, which surprisingly is one extra seat per row than the 2-4-2 setting offered by other B787 operators such as ANA and JAL. Seat pitch of the Recaro CL3620 light-weight seats is 32 inches and – in what is one of the first integrated IFE-seat deployments – all IFE providion is installed in the seats by Recaro before they go to the airframes.
Qatar Airways' new 787 will be the first aircraft to feature Thales' new 'TouchPMU' handheld, an iPhone-like device that allows passengers to multitask and for example watch a movie on the seatback screen while using the handheld to check the current flight position or local weather.
The Android-based TouchPMU can also store a wide range of apps, making it easy for airlines to add new features. The 787 will also be Qatar Airways' first wide-body to offer full wi-fi and cellphone connectivity, although the carrier said voice calls will be "disabled to minimise passenger disruption."
Narrowbodies
While rival 'Gulf Gulliver' Emirates moves in on new routes with widebody B777 aircraft – and even operates an A380 between Dubai and Manchester – Qatar Airways tends to take a more cautious approach when adding a new destination to its network. For example, the airline has extensively deployed narrowbody aircraft – which makes up 40 percent of its fleet – on new routes to Eastern and Northern Europe. The airline's A320s feature 12 angled lie-flat seats in Business Class, 132 seats in Economy, and personal IFE screens in all seats. Qatar has also equipped several of its A320s with OnAir 's cellphone connectivity.
Ground experience
Qatar Airways' USD90 million stand-alone Premium Terminal in Doha features a restaurant area, a delicatessen, cocktail bar, spa, and a business centre. The airline has just also opened its first airport lounge outside Doha at London Heathrow's Terminal 4, as it operates five flights per day to London. The 750m2 facility is designed to resemble private member's club rather than a conventional airport lounge, and Qatar recruited lounge staff from five star hotels and restaurants to work in the theatre-style brasserie kitchen and delicatessen.
NDIA
As an efficient and high-quality hub is key to Qatar Airways' network strategy, the airline is a key stakeholder in the construction of the New Doha International Airport (NDIA), which is scheduled to open in December 2012. Doha's current crowded airport can only officially handle 4.2 million passengers a year, while NDIA will initially have a capacity of 28 million passengers a year – and 50 million by the time the airport is fully operational beyond 2015.
The new USD17.5 billion airport is being constructed four kilometres from the existing facility and Qatar Airways expects to start operating from NDIA in early 2013.
Expansion
Opening 24 new routes in the past two years, Qatar Airways currently operates a fleet of 101 passenger aircraft (up from 57 in 2007) to 109 destinations. Receiving a new aircraft every 2 to 3 weeks on average during 2012, the airline is continuing its expansion in 2012 with 13 new routes and by 2016 plans to serve 170 destinations with a fleet of 170 aircraft. Furthermore, the airline's outspoken CEO expects the Gulf region to only have two dominant airlines, suggesting that Abu Dhabi-based Etihad will not be on that list.
In total, Qatar Airways has over 250 aircraft on order – worth more than USD50 billion at list prices – which include 10 A380s (first aircraft to arrive in 2013, but possibly delayed because of the superjumbo's wing cracks issue), 30 B787s, 80 A350s (of which Qatar will be the launch customer) and 50 A320neos. The state-owned airline has delayed its earlier planned IPO with at least 5 to 8 years, saying it feels "it will take a very long time to recover from the economic situation that the world is in today."
Niche markets
A hallmark of Qatar's growth strategy has been its focus on niche and second-tier destinations. In Europe the airline already flies to 30 destinations, including Eastern European cities such as Budapest, Bucharest, Sofia, and the Scandinavian capitals of Copenhagen, Oslo and Stockholm. As these second-tier destinations have limited direct long-haul flights, passengers have to make at least one stop-over to reach their final destination, which could be just as well in the Gulf instead of in Europe.
Speaking at last year's Dubai Air Show, CEO Al Baker said that the airline's mission "…has been to operate to key business and leisure destinations around the world, but also to underserved markets where others dare not venture into. We take bold decisions to serve certain markets because we believe it makes strong business sense." 2012 route launches by Qatar Airways will include Baku (Azerbaijan), Tblisi (Georgia), Benghazi (Libya), Kigali (Rwanda) and Mombasa (Kenya).
The airline also announced it has an agreement with the Iranian government to fly domestically in the country. Latin America and "underserved" Africa will be targeted for future expansion.
China
Qatar Airways has also been very public about its intentions to expand in China, which is home of no less than 160 cities with a population of more than 1 million. The airline plans to double the number of flights to China from the current 35 to 70 a week by 2013 and in December 2011 launched its fifth Chinese destination to Chongqing.
Says Al Baker, "Chongqing is a prime example of a city, with its large industrial base and population of almost 30 million people, not having sufficient international air access that it so well deserves. Qatar Airways looks forward to developing our network further in China, with particular focus on inland Chinese cities where demand for air travel is just as high as the traditional coastal gateways."
Qatar Airways also states it will not stop its expansion worldwide, despite the effect the debt crises in the U.S and the eurozone are having on the global aviation industry. "Some weak airlines will not exist, but airlines, like us, with strong financial capability, can still grow during an economic downturn," said Al Baker, adding that international trade is still continuing and the demand in some markets, including China and countries in Africa, is still increasing.
Acquisitions
Furthermore, part of Qatar Airways' growth may also come from the acquisition of troubled European carriers – witness Etihad's recent purchase of a 29 percent stake in airberlin.
In recent years, Qatar Airways has been linked as a strategic investor in the likes of Olympic Airways (Greece), TAP (Portugal) and SAS, and the airline in early 2012 pulled out of advanced talks with now-bankrupt Spanair after Spanish regulators said state aid given to the loss-making carrier had to be repaid.
Although any acquisition is ruled out in the near term by CEO Al Baker, Qatar Airways is also interested in investing in India when current foreign ownership limitations are lifted by the Indian government.