Aiming to provide business travellers with an easy transfer to and from the airport, Amsterdam's Schiphol Airport has just launched the Schiphol Business Taxi, a luxury taxi service designed to help business travellers start or end their journey in business class style.
Besides petrol-powered vehicles, the new taxi service also offers a green, electric option, the so-called 'Electric Business Taxi'.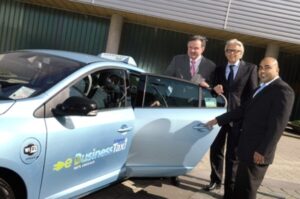 Electric taxi
The Schiphol 'Electric Business Taxi' is 100 percent powered by electricity and can cover a radius of around 100 kilometers. This makes it suited to short distances, such as journeys between Schiphol and central Amsterdam or the Amsterdam Zuidas business district. Taxi drivers receive a short training to learn to reduce speed by using the engine, instead of the brakes, in order to generate as much energy as possible and maximise the radius. The electric taxis also offer wi-fi connectivity, which eventually will be rolled out to all Schiphol Business Taxis as well.
The business taxi service can be reserved up to four hours ahead of departure, and passengers can be picked up at (or transported to) anywhere in the Netherlands. Rates for a transfer for one person with luggage are EUR42 into the business district, EUR58 to the Amsterdam central rail station and EUR124 in to central Rotterdam. Extra services such as an escort to and from the gate and check-in assistance are also offered. The service is offered by a joint venture between Schiphol and Connexxion, the largest public transport company in the Netherlands.
Better Place
There are currently 2 electric Renault Fluence Z.E. (zero emission) taxis in operation and another 4 vehicles will be added this June. The Renault Fluence Z.E. cars are the result of a partnership between Schiphol Airport, the City of Amsterdam and Better Place, a company that provides what it calls "electric car networks", a network of battery switch stations combined with the supply of batteries that power the electric cars.
Better Place in early March announced it will open its first battery switch station in the Netherlands at Schiphol Airport. The station, which is set to be completed this summer, will initially serve 10 Renault Fluence Z.E. taxis, operated by Connexion as well as two other taxi companies, TCA and Bios. When the batteries of the electric cars are depleted taxi drivers pull into the switch station and a fully-automated process switches their empty battery with a full one in five minutes, about the same amount of time it takes to fill a tank with petrol.