As people are bombarded with marketing messages, real-life interaction with products and brands (a.k.a. experiential marketing) has become increasingly valuable for airlines to get their message across.
We reported earlier on Southwest Airlines' 'porches' in New York and Denver, Delta Air Lines' 'SKY360 lounges' at sports venues, and film and culinary festivals in the U.S, while Air France last year toured Manhattan, New York, for 5 days with a 'Gourmet Food Truck', serving free food samples based on the recipes of Air France's Michelin-starred chef Joël Robuchon.
Flight BA2012
The latest airline to join the 'brand space' trend is British Airways (BA), who will launch an airline themed pop-up venue – called 'Flight BA2012' – in the run up to the London 2012 Olympic and Paralympic Games.
Open on select weekdays from April 4 to 17, the three-in-one art gallery, cinema and dining lounge will showcase the works of the winners of BA's Great Britons co-creation campaign before they are rolled out on flights from April. Bookings can be made from March 19 on at facebook.com/britishairways.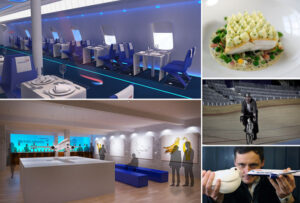 'Flight BA2012' will be located at 3-10 Shoreditch High Street in East London, and will offer guests a three-in-one dining, cinema and art experience. For GBP50 visitors will get entry to the gallery and screening room, receive a welcome glass of champagne, a sit down three-course meal with amuse bouche, and tea, coffee and petit four. The temporary venue will feature artwork from artist-designer Pascal Anson from Brighton, who was mentored by artist Tracey Emin on his 'Dove' design which will will appear on selected BA aircraft.
The short film 'BOY', written by screenwriter Prasanna Purwanarajah under the mentorship  actor Richard E Grant and to be shown on BA flights, will be screened in the 'Flight BA2012' cinema.
Guests will also be able to sample a bold British menu created by Michelin-star chef Simon Hulstone, who under the guidance of Heston Blumenthal, has produced a menu from the airline's menus dating back to 1948 – the last time the Games were held in London (more details of the menu here). Hulstone's menu will be served in-flight on BA long-haul services departing London Heathrow between July and September.