While many airlines around the world offer their premium passengers a complimentary door-to-door transfer by luxury car from their home, office or hotel to the airport, a handful of carriers (including Lufthansa, SWISS, Qatar Airways and Oman Air) also provide their most valuable customers a limousine transfer from the airport terminal or airline lounge straight to the aircraft.
Portuguese carrier TAP, meanwhile, offers its passengers a paid option (euro 110 to 140) for a fast track through security at the airport and a transfer by private car to the aircraft, as part of its Personalised Assistance program.
For airlines looking to enhance the ground experience for their premium passengers, but who have limited funds to invest or do not want to charge separately for the service, Delta Air Lines has come up with an innovative solution.
Delta and German automaker Porsche have partnered at Atlanta Hartfield-Jackson Airport to shuttle some of the airline's most important passengers to and from the aircraft in one of six Cayennes or two Panameras.
For example, arriving passengers are escorted to a Porsche and chauffeured to another terminal for a connecting flight or to their cars in the parking lot.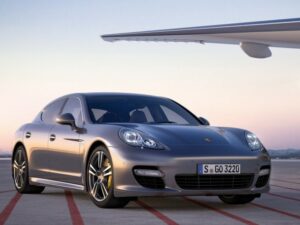 Tryvertising
Porsche has provided the vehicles to Delta free of charge, but has placed information about the car models in the vehicles and in Delta Sky Lounges at the airport. The partnership is a good example of the 'tryvertising' trend (coined by trendwatching.com and featured several times before on airlinetrends.com).
The premium service is available for select Diamond Medallion — those who fly more than 125,000 miles a year — members of Delta's Skymiles loyalty program. Says spokeswoman Chris Kelly Singley: "For Delta, it's a way to surprise and delight high-value customers."
According to Delta, the service is targeted at passengers with tight connections, or passengers not based in Atlanta who might find the airport confusing and difficult to navigate, and, time-permitting, other high value customers who "we might not have thanked recently according to our records." Says Delta's Singley: "Delta occasionally grants perks to let those high-value customers know it is paying attention to their travels. The gestures are a way to show Delta's appreciation of their business. It's a quick and easy way to make life easier. Sometimes, it's the small things."
For Porsche, the partnership is a way to get some potential buyers to take a ride. "It's really to showcase the cars, to let the right type of people know these cars exist," Porsche Cars North America spokesman Steve Janisse said. "It's an innovative way for us to get people into our products. It's neat because it's the right people."
According to a report on Flyertalk, Delta is planing to implement similar pick up services at other airports in the U.S. given the positive feedback at Atlanta Airport, although locations had "not yet been finalized." The two companies have signed a one-year contract and in November 2011, the first month of launch, Delta passengers were given more than 1,500 rides.