KLM today has launched a 'Meet & Seat'scheme which encourages passengers to pick seatmates by checking out social media profiles of fellow passengers who link to their profiles during check-in.
The idea is that flyers will be able to find out about interesting people who will be on board their KLM flight, for example other passengers attending the same event at the destination.
The 'social seating' feature has been launched on flights between Amsterdam and San Francisco, Sao Paolo and New York City with plans to extend it to other intercontinental destinations shortly.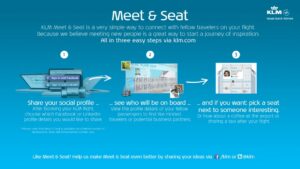 Although the idea of the 'social flight' in itself is not entirely new – it was coined by digital media guru Jeff Jarvis a few years ago, while airlines such as Malaysia Airlines and Estonian Air have experimented with the concept – KLM's new 'Meet & Seat' tool takes the idea of 'social seating' a step further, as until now social media users could only connect with their friends before a flight, while KLM allows anyone to connect with anyone.
KLM says it is trying to give travellers a more "inspirational journey" with the service enabling them to see who is on the flight, perhaps meet for a coffee beforehand, select seats next to each other or share a taxi at the other end. The tool will be opt-in only, to allow the many travellers who view flight time as private time.
How it works
Passengers who have booked a KLM flight from Amsterdam to New York, San Francisco or Sao Paulo (or back), can go to KLM.com and log in to the 'Manage my Booking' section. They then go to the 'Seating' tab, click 'Meet & Seat' and connect their social profiles with their booking by logging in to their Facebook or LinkedIn account.
After selecting the profile details they want to share with other passengers and adding their travel details and languages spoken, the seat map shows other passengers who have also shared their profile details, and which seat they have chosen. Passengers then can select their seat, for example next to someone with similar interests. Passengers can not 'block' a specific person for sitting next to them, other than opting out of the Meet & Seat tool and anonymously select another seat.
When other passengers on the flight share their details via Meet & Seat at a later stage, passengers who registered earlier then receive an e-mail, so they can change seats if they want to. KLM emphasizes that passengers can always choose to show less or more profile details, or remove their profile details from the seat map entirely. Meet & Seat will be available in 90 days and can be used 48 hours before departure. For more on KLM 'Meet & Seat' see this video, or read airlinetrends.com's comment on the service in this MSNBC article.
KLM and social media
KLM, which has over 1 million Facebook fans and 220,000 followers on Twitter, has developed a reputation when it comes to digital media campaigns that combine the online, virtual environment with the offline, real world. Earlier social media initiatives include a Delft Blue-tiles livery based on profile pictures of the airline's Facebook fans, passengers at Schiphol Airport who were randomly surprised with a personal gift based on their tweets or Facebook messages, and a commercial flight from Amsterdam to Miami with tickets exclusively sold via Twitter. The airline also runs several online communities, called Clubs, based on themes such as golf, running, China and Africa.