Rising disposable income in emerging economies such as the BRICs and the N-11s has allowed the rapidly growing middle classes in these countries to start travelling by air.
According to IATA estimates, the number of air travellers worldwide will grow with 800 million to 3.3 billion in 2014 (up from 2.5 billion passengers in 2009), with China alone accounting for more than a quarter of this growth.
Although air travel in China is still mainly on domestic and regional routes, an increasing number of leisure and business travellers are flying overseas.
'Red carpet'
With Chinese outbound tourism recording more than 20 percent annual growth in recent years and overseas spending by Chinese tourists in 2011 expected to total around USD55 billion, airlines, airports and tourism destinations around the world are rolling out the red carpet to make Chinese travellers feel more at home.
Says Reinier Evers, founder of trend agency trendwatching.com, "China is the new emperor, and outpaced companies, flailing nations and even broke monetary unions are looking to the Chinese to bail them out. No wonder red carpets are being rolled out wherever Chinese politicians and CEOs currently set foot. In 2012's global consumption arena we see a similar picture: department stores, airlines, hotels, theme parks and museums, if not entire cities, around the world are going out of their way to shower Chinese customers with tailored services and perks, and in general, lavish them with attention and respect."
Since there are around 160 cities in China with populations of over 1 million people, airlines such as KLM (Chengdu, Xiamen, Hangzhou), Lufthansa (Shenyang, Qingdao), Air France (Wuhan), Finnair (Chongqing), Qatar Airways (Chongqing) and Etihad (Chengdu) have opened routes to second-tier cities in the country. These airlines also employ Asian cabin crew on board and offer localized amenities such as Chinese food and beverages, movies, music, newspapers and magazines.
France is the top destination for Chinese travellers in Europe with 910,000 arrivals in 2010, according to Euromonitor. Chinese spent by far the biggest amount in France too – USD375mln, preferring to fork out on goods – often luxurious ones – rather than hotels and food. In fact, a majority of Chinese tourists visiting Paris stay in cheaper accommodation outside the city and spend about USD1,800 each on shopping, 60 percent of their travel budget, according to Global Blue, an international company that handles refunds of taxes for international shoppers.
Chinese new year
To meet Chinese tourists flushing in during the Chinese lunar new year (starting January 23), Aeroports de Paris has launched several 'welcome' initiatives. In the baggage delivery area, and when a flight from China lands, audio welcome messages are broadcast in French, English, Mandarin and Cantonese. Hostesses of Aéroports de Paris hand out a red envelope to each Chinese passenger, which contains a welcome letter from the president of the Paris airport, a bilingual-marked Paris map in English and in Chinese. At terminal 2E of the airport Chinese travellers are also greeted by a red-colored arch-gate marked in Chinese calligraphy "Happy Dragon Year." As Chinese are ranked first among customer groups at CDG's airport duty-free shops, the airport has also employed more shop assistants who can speak Chinese and has organized a Chinese language and etiquette training course for its staff.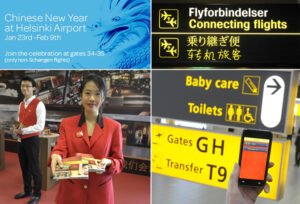 Amsterdam Schiphol
In recent years, Schiphol Airport has seen a sharp rise in the number of flights to mainland China (39 a week in the summer of 2011), as well as the number of passengers (600,000 passengers departed from Schiphol to China in 2011, of which 295,000 were Chinese travellers). During the month of January hostesses welcome Chinese passengers in Mandarin at the gate upon arrival at Schiphol and hand out an airport map and shopping brochure in Mandarin. A welcome and happy new year message is shown on digital screens. On pier F a special showroom has been set up where Chinese passengers can obtain tourist and product information from staff wearing "I speak Mandarin" buttons. Many of the luxury retailers at the airport have also deployed Mandarin speaking staff as well, around 50 in total. Schiphol says it is planning a similar welcome initiative during the month of May, which is another peak travel period for the Chinese.
Helsinki Airport
At Helsinki Airport, airport operator Finavia together with home carrier Finnair celebrates the Chinese New Year from 23 January to 9 February with daily shows, such as live music, dragon dances and Finnish-Chinese dance performances and traditional decorations at the gates. Based on the geographical location of Helsinki, Finnair and Helsinki Airport are positioning themselves as providing the shortest and fastest route between Asia and Europe.
Wayfinding
Since for many Asian travellers, getting around western airports can be difficult due to language problems (the 'universal' icons on airport signage that indicate exit, baggage reclaim or toilets still lead to confusion among passengers), Helsinki and Copenhagen airports have added Chinese and Japanese language to their wayfinding signs (the only two airports in Europe to do so), while signs at Helsinki Airport are also in Korean.
Taking a digital approach, Schiphol and CDG airport have teamed up to develop a Chinese version of their mobile apps for iPhones and Android-based devices. Developed with the goal to serve as a 'virtual travel companion', Chinese passengers can use the app to find information in Mandarin about flights, maps, public transport, baggage and medical services, as well as special tax-free shopping deals.
The most innovative feature of the app is the use of optical character recognition technology which lets passengers to translate the airport signs directly into Mandarin via the camera of their smartphone (demos here and here). The app can translate 2,500 different signs in Amsterdam and 7,500 signs in Paris.