"I always take advantage of a good crisis by shaking up the company!"
Etihad'ın Avustralyalı CEO'su James Hogan böyle diyor.
Yani her zaman, krizlerden şirketi yeniden yapılandırmak için faydalandığını söylüyor.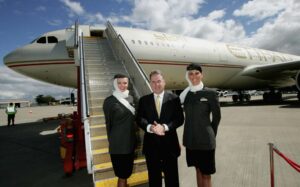 Hogan, 10 Eylül 2006 tarihinden bu yana Etihad Airways'in CEO'su konumunda.
Bunun öncesinde yine aynı bölgeden Gulf Air'in başında bulunan Hogan, orada 2002 – 2006 yıllarında çalışmış.
Henüz halka arz edilmediğinden mâlî performansının nasıl olduğu hakkında çok fazla fikir sahibi olunmayan Etidah'ın CEO'sunun krizlere yaklaşımı bu şekilde.
2002'den bu yana SARS, Irak'ın işgali, dünya ekonomik krizi gibi bir çok badireyi atlatan havayolu sektöründe çalışan bir CEO'nun bu yöndeki açıklaması bu yüzden önemli ve dikkat çekici.
2011 yılını başa baş (break-even) noktasında kapatacaklarını iddia eden Hogan, tüm olumsuzluklara rağmen 2012 yılında artık kâr eden bir havayolu şirketi olacaklarını savunuyor.
Yılın üçüncü çeyreğinde gelirlerini önceki senenin aynı dönemine göre %39 oranında artıran Etihad, uçuş ağını genişletmeye ve yolcu sayısını artırmaya devam ediyor.
Üç aylık geliri 1,1 milyar USD seviyesine ulaşan şirket taşıdığı yolcu sayısını da %19 oranında artırarak 2,25 milyona çıkardı.
Bu dönemdeki yolcu doluluk oranı ise %80,7 ile Etihad tarihi için bir rekor.
Bakalım 2012'de Etihad, Hogan'ın hedeflerine ulaşabilecek mi?
Ve bu dönemde, mevcut kriz şartları çerçevesinde Etihad'ın kurumsal yapısında bir "shake-up" yaşanacak mı?
🙂