Airports are high-traffic locations with a diverse and international mix of consumers, which makes them well-suited to trial novel technologies (see also our article on airports' experiments with virtual technologies).
The latest futuristic showcases are laser-guided travel pods, electronic paper guide cards and a hydroponic vegetable garden.
London Heathrow
In mid-September, laser-guided pods that transport passengers without drivers or timetables were officially launched at London Heathrow Airport's Terminal 5, following a 6-month trial.
The 21 pods, which carry up to four passengers and their luggage between the business car park and the main terminal building, are laser-guided and run along tracks. They  take an average of ten minutes less for the two-mile route than the airport buses, mainly by avoiding traffic on the roads around Heathrow.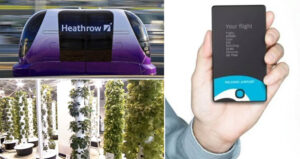 Passengers use a touch screen to choose their destination and there are no timetables (and no waiting), as a central computer ensures that pods are distributed at each station according to passenger demand. When waiting for a passenger, the pods recharge themselves at battery points. The 21 low energy, battery powered, zero emission vehicles, which use 70 percent less energy than it takes to power a car, and 50 percent less than a bus, can transport up to 500,000 passengers each year and replace 50,000 shuttle bus journeys.
The pods were initially devised in 1995 by engineers during a research project at the University of Bristol, and were then developed by ULTra PRT in cooperation with BAA. The system will also be piloted near Delhi and Amritsar in India, and at the new by Norman Foster-designed Apple campus in Cupertino, California
Helsinki Vantaa
Another pilot project that aims to make travelling more convenient for passengers, issues transfer passengers on a tight connection with a personalized electronic display card to guide them to their boarding gate at Helsinki Airport.
Developed by Finnish company Agaidi, the thin display card, which can operate up to three years without charging, shows personalized, real-time flight information to passengers and keeps them updated about, for example, boarding times and estimated walking time to the gate.
It also contains information about services along the way, such as cafés, restaurants and shops.
Helsinki Airport is a popular transfer point for flights between Asia and Europe, and the airport says it is piloting the new electronic display card to further develop its hassle-free transfers. During the one-month test period the passengers are accompanied by airport personnel to make sure they return the device when they reach their gate.
Chicago O'Hare
In the USA, the world's first aeroponic garden in an airport has just opened at Chicago O'Hare (whose airport code, ORD, stands for orchard, by the way).
44 different types of organic herbs and vegetables, including swiss chard, red habanero peppers, onion chives, basil,dill, parsley, lettuce, thyme, oregano, and green beans, are growing from 26 8-foot tall white towers and are being cultivated using 'hydroponics', a method of growing plants that involves replacing soil with nutrient-rich water.
The garden will provide year-round cultivation, and the harvest – which comes about once a month – will be used in four restaurants at the airport.
The 928-square-foot O'Hare Urban Garden, which is located in the located in the mezzanine level of Terminal 3, G Concourse, was paid for by airport caterer HMS Host, who says the airport vegetable garden meets traveller's demands for fresh local produce.
In 2010, sandwich chain Subway, also opened a hydroponic lettuce garden right in the middle of one of its outlets in central Tokyo.