Emirates SkyCargo, the freight division of Emirates, has successfully transported the first group of 67 horses for the FEI World Equestrian Games™ Tryon 2018.
The horses were flown from Liege, Belgium to Greenville-Spartanburg, USA in an Emirates SkyCargo Boeing 777 freighter aircraft.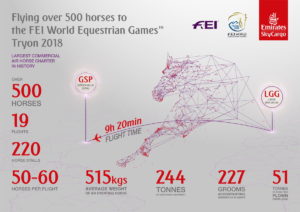 This is the first of the nineteen flights that Emirates SkyCargo will be operating as a special charter for one of the most important events in the global sporting calendar.
With over 500 horses being flown for the Games, this is the largest air horse charter that has been undertaken for a single sporting event. Emirates SkyCargo worked with Peden Bloodstock, a leading international horse transportation specialist to execute the charter.