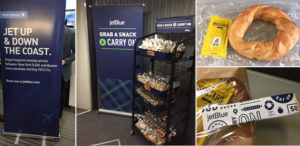 This article is re-published with kind permission of "www.airlinetrends.com".
Routes with a large number of business travellers travelling back and forth on the same day for meetings are a very lucrative market for airlines.
Examples of busy business corridors include New York and Boston, Chicago, Washington, as well as Los Angeles and San Francisco in the USA, London and Amsterdam, Paris, Frankfurt in Europe, Tokyo and Osaka and Shanghai and Hong Kong, Beijing in Asia.
Besides strong competition between airlines, these shuttle routes also face increasing competition from high-speed rail services.
We have reported before how Delta aims to increase frequent flyer loyalty on routes between New York and Boston, Chicago, Washington, as well as Los Angeles, San Francisco and Seattle by improving the amenities on the ground and on board.
JetBlue Shuttle
Now JetBlue has set its eyes on the lucrative shuttle market.
At the end of October, the airline launched its first shuttle service between New York LaGuardia and Boston Logan offering 6 daily return flights.
Having stepped up competition in the transcontinental market in 2013 with its new A321 aircraft that feature the Mint Business Class, as well as amenities like an inflight snack station, JetBlue stated it plans to inject more competition into the Boston-New York airline 'shuttle' market, which is currently being dominated by Delta and American Airlines.
According to investment publication The Motley Fool, the airline shuttles have lost customers to rail travel since Amtrak debuted its high-speed Acela Express service between Boston and Washington in late 2000.
"Travel between Boston and LaGuardia is ready for a little JetBlue reinvention," said Jamie Perry, VP Marketing, JetBlue. "For years, one of the northeast's busiest travel routes has been plagued by high prices and a lack of creativity. Our Boston-based business customers and anyone who has been forced to pay up or make the long drive will love this new option."
New York and Boston are JetBlue's top two markets.
However, most of JetBlue's New York-area flights are based at JFK Airport, which is farther from Manhattan than LaGuardia.
As a result, it's not attracting the same customers as the hourly Delta Shuttle and the American Airlines Shuttle.
JetBlue recently freed up its slots for the Boston shuttle flight at LaGuardia – where takeoffs and landings are limited by U.S. regulators – by shifting six Florida fights to Newark Airport.
Price and passenger experience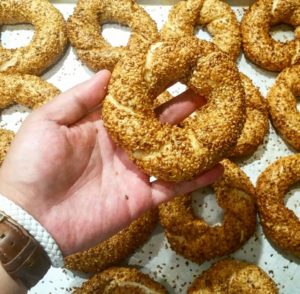 The six new daily Boston-New York flights are sufficient to compete with the hourly shuttles offered by Delta and American, because of JetBlue's service and on-board amenities, Dave Clark, JetBlue's VP network planning told Bloomberg.
"Fares averaging about USD 154 each way now have led some commuters to switch to driving or taking Amtrak and have made a new entrant viable," he said.
JetBlue plans to undercut its rivals on price, with one-way tickets as low as USD 49, as well as on amenities on the one hour and 15 minutes flight.
For example, customers can show their boarding pass at participating outlets – which include Dunkin Donuts and Au Bon Pain – in LaGuardia's Terminal B or Boston's Terminal C and get a free cup of coffee before boarding their flight.
A complimentary fresh-baked simit (a bagel-like Turkish snack) from New York-based Simit+Smith, with either jam or mustard (depending on the time of day), is available for pick-up as customers board the aircraft.
Onboard, passengers are also offered complimentary wine or locally brewed craft beer in addition to the carrier's regular array of complimentary onboard snacks.
Customers on the shuttle flights are the first to use JetBlue's Fly-Fi Internet service from gate to gate, instead of just in the air — a perk the airline says it plans to offer fleet-wide in the coming months.
JetBlue operates the Boston-New York flights with Embraer E190 aircraft that seat about 100 passengers. American also flies the route with E190s, while Delta uses a mix of Embraer E175s and Boeing 717s.
JetBlue at Boston
JetBlue is the largest airline in Boston, with nearly 140 daily departures and 30 percent market share and the move into the Boston-LaGuardia market is one element of JetBlue's strategy to dominate Boston.
The airline has also started to bring its highly acclaimed Mint business class service to Boston to win over more business travellers.
This year, JetBlue started A321 flights featuring its Mint cabin from Boston to San Francisco and Los Angeles and expects to launch the service from Boston to San Diego, Seattle and the island of Aruba in the future.