This article is re-published with kind permission of "www.airlinetrends.com".
Connectivity and digitalization are revolutionizing the airline passenger experience, most notably by empowering passengers to manage their journey by providing them with real-time information and on-demand services.
Tapping into the mindset of today's connected travellers, Singapore's Changi Airport has developed interactive art installations at its terminals in an effort to "engage, excite and encourage visitors to explore Singapore in and beyond the airport."
Motion Silhouette Wall
Located at Terminal 2's Departure Transit Lounge, the Motion Silhouette Wall uses motion-sensing technology to respond to movements in real time.
Animated backdrops of Singapore landmarks such as the National Stadium and patterns change as passengers in front of the wall move and interact with the animation.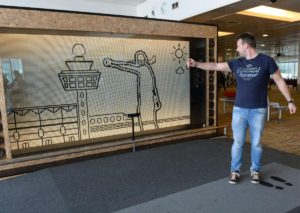 Dots Portrait Wall
Located at the other side of the installation and using the same motion-sensing technology, is a Dot Portraits Wall where passengers can make a monochromatic portrait of themselves taken at different spots of Singapore, such as Gardens by the Bay and Merlion Park.
The finished image then appears on the screen in a black and white flip-dot display.
Passengers can send these portraits by e-mail to themselves as a 'memento' or can be forward to friends and family.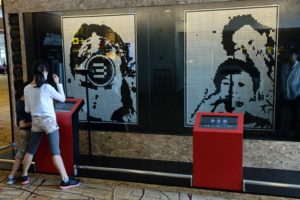 The Social Tree
The two installation follow the so-called 'The Social Tree' that was created three years ago at Changi Airport.
Located at the central piazza at Terminal 1, 'The Social Tree' installation plugs into a trend dubbed 'Life Caching' by trends agency TrendWatching and allows travellers to digitally store and share their photo and video memories and retrieve them on subsequent visits to the airport from the booths surrounding the tree.
Travellers 'attach' their photos onto the colorful and animated crown of the structure, which is made up of 64 giant 42-inch high-definition screens, offering a 360-degrees display of various animated backgrounds including a 'mystical forest' and the Singapore skyline.