This article is re-published with kind permission of "www.airlinetrends.com".
This article first appeared on TheDesignAir
When airlines such as Qatar Airways have announced recently they are working on brand new Business Class seats and Emirates is working on new First Class suites, it was a surprising twist to see Delta, a US carrier, to leap-frog the Gulf-based competition with an adapted Thomson Aero Seating product by UK-based design agency Factorydesign.
Business Class 'Suite'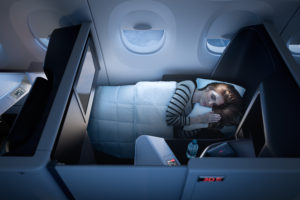 The new Delta One Suite is the first Business Class cabin in the world to feature a sliding door for each suite – a feature normally saved for First Class passengers.
The doors are a key part of Delta and Factorydesign's collaborative efforts to improve customer comfort and privacy.
The industrial design consultancy worked in close partnership with Delta and seat manufacturer Thompson Aero Seating throughout the design, development and engineering process to achieve this.
The word "cabin" is important in this announcement, as JetBlue's Mint product offers 4 mini-suites on their aircraft featuring sliding doors, however, the rest of the seats don't offer this level of privacy.
The seat may look familiar, and follows the traditional 1 x 2 x 1 staggered forward facing design that Delta has already adopted in many of its long-haul aircraft.
In fact the product has more in common with SAS' newThomson Vantage XL seats that the London based design firm also worked on.
Privacy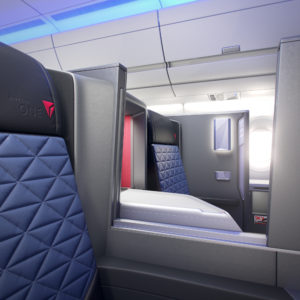 The ability to add doors was driven by the A350's extra width, explains Factorydesign's senior designer Ryan Graham:
"The high degree of customisation possible with Thompson's seating platform enabled us to sit down and look at the potential we had when putting it onto a wider aircraft."
"People like to have some privacy, and the feeling of 'owning their space', and this is exactly what the door provides. It is a major step-forward in Business Class travel. In the creation of the new Business Class Suite, Delta and Factorydesign extracted and interpreted the DNA of the Delta brand to create a unique three-dimensional product."
We do have initial concerns that the door could become claustrophobic as the staggered seating already creates an intimate seating environment.
Passengers in First Class have already enjoyed sliding doors for many years on a variety of suites, but the difference is that the LOPA (Layout of Passenger Accommodations) means that other passengers don't infringe on the footprint of the suite like the Delta suites do.
However, Delta One's doors only close for those who want the privacy, so is an ideal addition without compromising the width of the seat.
Peter Tennent from Factorydesign explains, "Passengers will have several feet of personal space around them and won't be banging their elbows against the walls."
The addition of state of the art lighting and new A350 Airspace product will also alleviate any claustrophobia and inject a sense of space to the Business Class cabin.
Delta A350, B777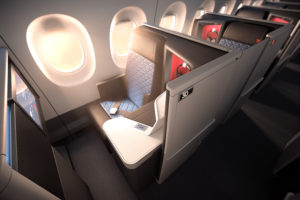 The Delta One suite will debut on Delta's first Airbus A350, due to enter service in September 2017.
Each aircraft will feature 32 suites.
In addition to full flat-bed seats with direct aisle access, which the airline introduced eight years ago, the Delta One suite also features in-suite customizable ambient lighting, dedicated stowage compartments for shoes, headphones and laptops, and an 18-inch, high resolution in-flight entertainment monitor, the largest among U.S. carriers.
Following the A350 debut, the Delta One suite from Spring 2018 on will be rolled out on Delta's Boeing 777 fleet, which also offers the width required to install the sliding doors, sadly this means A330s, 767s etc, won't receive this enhanced Business Class product.