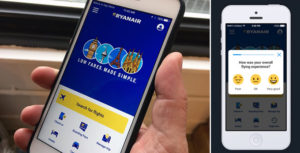 This article is re-published with kind permission of "www.airlinetrends.com".
In the past two and a half years, Ryanair has been busy upgrading its products and services, stepping up its digital innovation activities, as well as opening routes to main airport hubs in an effort – called 'Always Getting Better' – to appeal more to business travellers.
"This is not a PR stunt," said CEO Michael O'Leary at the launch of the initiative, describing the Always Getting Better programme as a "transformative" evolution and a "fundamental change" in the way both he and Ryanair do business.
'"If I'd known being nice to customers would have been so good for business, I would have done it years ago."
Rate My Flight
As part of the third phase of the program – which focuses on digital innovation – Ryanair earlier this year added a 'Rate My Flight' feature to its app.
Passengers who want to rate their flight have to download the regular Ryanair app, allow for push notifications, and are send the survey through the app upon landing.
The Rate My Flight survey asks passengers to evaluate each element of their flight, from boarding through food and drink provision to crew helpfulness and overall service standards. Ryanair says it uses the feedback to tweet and improve its offerings as much in real time as possible.
Feedback results
The 'Rate My Flight' initiative was trialled in March and went live in May of this year.
Ryanar has just published the first feedback results, based on more than 8,800 passengers who used the 'Rate My Flight' function during June and July.
More than half of respondents (53 percent) rated their overall experience as 'very good', 36 percent rated their experience as 'OK' and 11 percent rated it as 'poor'.
Crew friendliness received the highest positive rating, with 63 percent scoring this 'very good'.
At the other end of the scale, boarding received the highest number of 'poor' responses, with 14 percent saying they were unhappy with the boarding process.