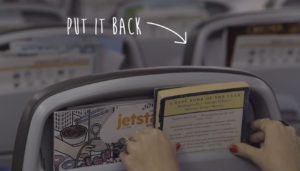 This article is re-published with kind permission of "www.airlinetrends.com".
In an effort to encourage reading among Singaporeans while onboard the plane and during their holiday getaways, Qantas' Singapore-based LCC Jetstar Asia has launched a book swap initiative.
Billed as "the world's first flying book exchange" and the "latest in in-flight entertainment," the Jetstar 'Big Book Swap' is a partnership with Singapore's National Library Board.
On July 30th, Singapore's inaugural National Reading Day, over 500 books and bestselling titles donated by the National Library Board, MPH Bookstores, Select Books, Book Point and Write Editions will be distributed to passengers at the boarding gates of selected Jetstar flights at Changi Airport Terminal 1.
Book. Fly. Swap.
Passengers will be invited to take the books on holiday, and leave them in the seat-backs on their return flight for another traveller to read en-route to their holiday destination.
Passengers wanting to contribute their own books to the flying book club can also get a Book Swap sticker from the Jetstar crew.
The idea for the Big Book Swap was based on a survey of over 3,900 Singaporeans that found that reading was not a priority for most people.
55 percent of the respondents read less than five times a year, with 42 percent stating that the primary reason for not picking up a book was due to a lack of spare time.
Despite holidays being a time for people to unwind and relax, only 7 percent usually read while on vacation.
Chantal van Wijnbergen, Jetstar's Southeast Asia marketing manager, commented:
"Books are an increasingly forgotten form of in-flight entertainment that can transport one to an imaginary adventure even before the flight departs."
"Likewise, a holiday can be greatly enhanced with a good read, and we hope the books from our kind sponsors, including NLB, can reinvigorate our passengers' passion for reading, and have the book swap flourish into the world's first flying, community-driven book club."
Jetstar's Big Book Swap will be available on all Jetstar Asia flights from 30 July to 31 August 2016.
AirAsia India x Kindle
For those passengers that prefer an e-book to a paperback, another major Asian LCC – AirAsia India – has recently partered with Amazon India to let passengers on a dozen AirAsia routes try out a Kindle e-readerinflight.
Passengers can reserve one of 25 free Kindle readers available per flight which contain books such as A Tale Of Two Cities, The Da Vinci Code, Gone With The Wind, Norwegian Wood, The Sialkot Saga, Daily Inspiration, Anthony Bourdain: The Kindle Singles Interview and many more.