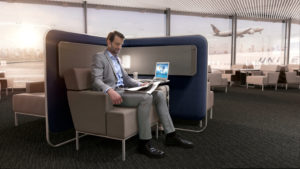 This article is re-published with kind permission of "www.airlinetrends.com".
United Airlines hopes to outshine competitors with a redefined international Business Class experience – called Polaris – named after the brightest star in our night sky.
United and London-based design firm PriestmanGoode have worked on the design and development of the Polaris service over the past three years, with the aim of re-branding and redefining United's proposition to the profitable, high-revenue corporate client.
The entire experience is designed to reverse any impression passengers may have that United offers customers a run-of-the-mill product.
On the ground
The United Polaris 'experience' starts with dedicated Business Class lounges designed to harmonise with the passenger experience in the cabin.
Each exclusive Polaris lounge features a dining area serving both a buffet selection and a la carte meals, as well as a tended bar. The lounges follow a common design plan with the active areas near the entrance, followed by the bar and buffet, and 'calmer' zones further inside—including shower suites and daybed rest pods.
PriestmanGoode have also created a bespoke seat for the lounge – named the Quad chair – which mimics elements of the Polaris seat up in the air.
This private seating concept in the lounge includes coat and bag storage, a pull-out table with integrated tablet holder, and AC/USB charging points for personal electronic devices.
The Polaris lounges will only be accessible to Business Class passengers, with no access granted to United Club members or even top-tier MileagePlus frequent flyers booked in Economy.
The exclusivity of the lounge to the airline's Business Class customers provides added value to the ticket, ensuring that those customers can be confident not to be disturbed by crowds of frequent flyers claiming their mileage perks.
The first new Polaris lounge will open at United's Chicago home base on December 1. Additional Polaris lounges will be rolled out at Los Angeles, San Francisco, Houston, New York/Newark, Washington Dulles, Tokyo Narita, Hong Kong and London Heathrow throughout 2017.
Up in the air
The Polaris cabin will consist of a new Business seat structure originally developed and patented by design firm Acumen, designed by PriestmanGoode, and manufactured by Zodiac Aerospace.
Crafted as individual, forward-facing, suite-like pods, each customer's personal suite will feature a "Do Not Disturb" sign, custom-designed bedding from Saks Fifth Avenue, mood lighting, several storage areas, multiple surfaces for simultaneous working and dining, a 16-inch high-definition entertainment screen.
The seats are staggered in a 1-2-1 nested configuration which grants every passenger direct aisle access.  And in between regular meal services, one side of the door 2 galley is turned into a self-service snack bar.
The Polaris redesign includes decorative elements for the lounge and cabin including new tableware, glassware, and amenity kits. The cabin will be introduced on United's 777-300ERs, 787-10s, and forthcoming A350 aircraft.
"A bespoke Polaris seat ties in with the onboard experience and features all required amenities in a more relaxed setting, including privacy, coat and bag storage, pull out table with integrated tablet holder and charging points," PriestmanGoode explains.
"We have been working in close partnership with United Airlines to create a holistic, refined, human-focused journey," explains Nigel Goode. "The new cabin and brand identity are the physical embodiment of United Airlines' new philosophy, which keeps the passenger at its heart, and rather than merely move passengers around the world, aspires to move the world forward.
Our new designs will align the airline's many products across the entire fleet, and provide a consistent, passenger-focused journey from home to destination."
Branded experience
The idea of commencing the journey early by providing a lounge experience that comes near or matches the experience in the air has begun taking hold as airlines try to differentiate their brand in the midst of numerous new aircraft interiors program debuts and airline rebranding initiatives.
Air China, for example, worked with its design firm (JPA Design) to develop a holistic ground to air experience which incorporated the story telling theme of the airlines' new cabins including traditional Chinese iconography designed by renowned Chinese artist Han Meilin.
Air New Zealand decorated its Auckland and Sydney international lounges to match the interiors of its Boeing 787-900 Dreamliner aircraft. The airline's domestic lounges coordinate with its A320 fleet.
And Finnair, together with dSign, developed a Space Alive design standard which is applied on the airline's Helsinki lounge and its new A350 XWB cabins. The concept uses dynamic mood lighting and neutral furnishings to set a mood that suits the time of day, destination or season.