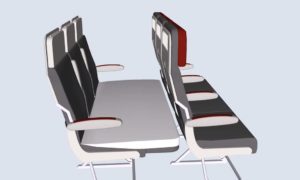 This article is re-published with kind permission of "www.airlinetrends.com".
At last week's Aircraft Interiors Expo (AIX) in Hamburg many of the innovations on display centered around passenger experience themes such as connected and empowered passengers, IFE&C as open platforms, further optimized Economy seat designs, mood lighting on steroids, and immersive Business Class seats.
Good overviews of the specific innovations featured at the Expo can be found here (FlightGlobal), here (APEX), here (RGN), and here (Future Travel Experience).
We'd like to single out one smart design concept that is an indication of how the industry continues to take existing innovations to the next level.
Case in point: Geven's Piuma Sofa seat, which will make its debut onboard an airline's A330 later this year.
SkyCouch
Back in 2010, Air New Zealand surprised the airline industry with its innovative SkyCouch, a row of three standard economy seats that can be changed into a single, horizontal space by removing arm rests. The seats have large flip-up cushions that fill the space between the end of the seat and the next row of seats.
Two other airlines – China Airlines (Family Couch) and Brazil's Azul (SkySofa) – have licensed Air New Zealand's SkyCouch design so far, while Air Astana came up with its own 'Sleeper Class' service.
Economy Sofa
At this year's AIX, Italian seat manufacturer Geven unveiled a working prototype of a further evolution of the 'SkyCouch' design, the Piuma Sofa.
The Piuma Sofa enables rows of seats to be rapidly converted by detaching the headrests and attaching them to the seat base to widen the space and create a flat area suitable for sleeping on.
A mattress cover can be placed on top of all seat bases to improve comfort.
Geven says it takes less than 30 seconds to convert three or four seats into a 'sleeper sofa' and the headrests are released by the cabin crew using a physical key.
The innovation of Geven's Piuma Sofa seat is in the headrests, which clip off the seat backs and are then placed onto the front of the cushions.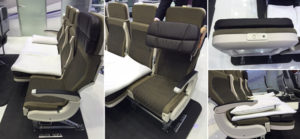 This way, the seat avoids the 'dead weight' of the large extension of Air New Zealand's SkyCouch by re-using the headrest sections instead. Compared to the standard Piuma seat, the Sofa's weight penalty is less than 2 kg compared to a regular Geven Piuma seat.
Marketing and sales manager Trevor Lambert – who came up with the concept – adds that because the design does not rely on an extending footrest the solution also does not interfere with legroom or under-seat storage, and keeps the part count low. Another advantage is that there is no licence fee for other airlines to pay.
As Geven puts it: "The sofa creates no extra thickness to seat pans, does not alter seat comfort, does not add to or pose any obstruction to routine cleaning and adds no great amount of extra weight."
The Sofa version of Geven's Piuma seat is currently undergoing certification, but as the seatback structure is similar to the other Piuma seat versions, the company doesn't expect any major issues.
Ancillary option
The Piuma Sofa is positioned as an ancillary innovation for airline by allowing them to cash in on empty economy-class seats by turning rows into beds only when there are enough seats left on a particular flight, making it an interesting ancillary option for routes with lower load factors.
When making their booking, passengers can indicate their interest in the sofa option. If an empty row is available on their flight they will receive an offer one day before departure. Alternatively, the airline can promote the option when passengers check-in, are waiting at the gate, or even last-minute as a buy-on board offer.
One possible sales option is for a family to take the full row and convert two or three of the positions, for small children to sleep comfortably.
According to Lambert, the Piuma Sofa seat is also of interest as an upgrade perk for frequent flyers that have booked Economy, or as a crew rest option on for example the A330.