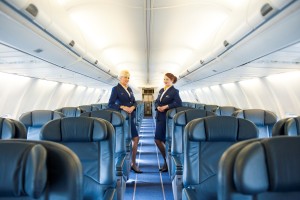 This article is re-published with kind permission of "www.airlinetrends.com".
In the past 20 months, Ryanair has been busy upgrading its products and services, stepping up its digital innovation activities, as well as opening routes to main airport hubs in an effort to appeal more to business travellers.
Now, in a surprise move, Ryanair has taken its drive upmarket to a whole new level by launching a corporate jet service, using a customized Boeing 737-700 which is available for corporate or group hire.
The Boeing 737-700 features 60 reclining leather Business Class-style configured in 15 rows in a 2-2 with a 48-inch seat pitch and include "fine dining catering facilities."
The Business-only 737 will be staffed by Ryanair pilots and cabin crew and has a range of up to six hours, making it "ideal for private corporate, sports team or group travel", Ryanair said.
Ryanair's standard B737-800 aircraft feature 189 seats in a 3-3 layout.
The Irish low cost airline says it has been attracting more business people since overhauling its model in the wake of two profit warnings in 2013.
As it already caters for around 25 million business travellers per year and has now set up a dedicated corporate jet team at its home base in Dublin.
A spokesman said the plane can be hired by the hour, with the "competitive" rate depending on the arrival and departure airports.
According to The Guardian, a 60 seater private jet from London to Geneva would cost about £33,000 – or £550 a head – for a return trip.
Carol Cork, sales and marketing director at private jet hire firm PrivateFly, told The Guardian that Ryanair had got the timing right, with the Euro football championship in the summer coming up.
Asked if Ryanair would accept bookings from stag and hen parties, a spokesperson said the carrier was "happy to provide quotes for any groups."
While, Ryanair is the first low-cost carrier to launch a corporate jet charter, airlines such as Korean Air (16 or 28-seat 737 Business Jet), Emirates (19-seat A319 Executive Jet) and Qatar Airways (40-seat A319 Premium One) offer similar charter services using a Boeing 737 or an A320 family aircraft, although these feature a more 'uber-premium' cabin.