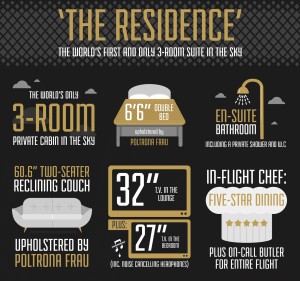 Airbus'ın amiral gemisi A380 ile uçulan Amerika hatlarının sayısı giderek artıyor.
Son olarak geçtiğimiz 23 Kasım gününden itibaren Etihad Airways, Abu Dabi – New York JFK uçuşlarını, Airbus A380 tipi uçaklarıyla icra etmeye başladı.
Bilindiği üzere Etihad'ın A380'lerinin üst katının ön tarafında, havayolu sektöründe ikinci bir örneği bulunmayan ultra-lüks bir bölüm yer alıyor.
The Residence adı verilen bu bölüm, iki kişilik bir yatak odası, bir oturma odası ve bir duştan oluşuyor.
Londra'daki Savoy Academy'de eğitim görmüş olan özel hizmetliler, The Residence'ta seyahat eden yolcularla özel olarak ilgileniyor.
Etihad Airways'in, Abu Dabi – New York JFK hattında da sunmaya başladığı The Residence hizmeti için tek yön bilet fiyatı ise dudak uçuklatacak cinsten.
Bir veya iki yolcu için fark etmeksizin, tek yönde talep edilen ücret tam 32.000 USD.
Airbus A380, Amerika'yı Fethe Devam Ediyor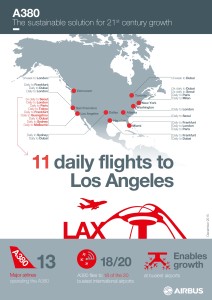 Günümüzde dünyanın önde gelen 13 farklı havayolu şirketinin filosunda A380 bulunuyor.
Yolcu sayısına göre dünyanın en büyük 20 havalimanından 18 tanesine, tarifeli A380 seferleri gerçekleştiriliyor.
A380'in tarifeli sefer yapmadığı o iki meydandan bir tanesi, İstanbul Atatürk Havalimanı.
Öte yanda özellikle son bir kaç yıl içerisinde Emirates, Etihad ve Qatar Airways'in Kuzey Amerika'da art arda açtığı hatların bazılarında A380 tipi uçaklar kullanılıyor.
Bunun da etkisiyle, Aralık 2015 itibarıyla ABD ve Kanada'daki 10 farklı havalimanı, A380'in uçuş ağına girmiş durumda.
Kanada'da Toronto ve Vancouver; ABD'de ise New York, Washington, Atlanta, Miami, Houston, Dallas, Los Angeles ve San Francisco, A380 ile ulaşılabilecek noktalar.
New York JFK'de günde tam yedi kez bir A380 seferine rastlamak mümkün. Dünyanın merkezi sayılabilecek bu kentten Dubai, Seul, Paris ve Milano'ya A380 ile seyahat edilebiliyor.
Etihad Airways'in, yazımızın girişinde bahsettiğimiz Abu Dabi – New York uçuşunu da ilave edersek, bu rakam sekize yükseliyor.
Amerika'daki A380 rekoru ise Los Angeles'a ait.
Los Angeles günde tam 11 A380 operasyonuna ev sahipliği yapıyor.
Seul, Londra, Paris, Tokyo, Frankfurt, Guangzhou, Dubai, Sydney ve Melburne, Los Angeles ile A380 bağlantısı olan kentler.