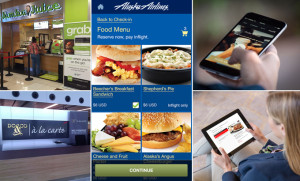 This article is re-published with kind permission of "www.airlinetrends.com".
Consumer behavior is changing.
Smartphones make it quick and hassle-free to order goods online, or flag a taxi via Uber.
This always-on, on-demand economy has generated a sense of entitlement to fast, simple, and efficient experiences as it taps into consumers' appetite for greater convenience, speed, and simplicity. For example, analysis from Uber shows the longer Uber has been in a city, the less willing to wait for a car everyone becomes.
In the food and beverage industry, ordering and paying for food and beverages via tablet devices has become the new normal at casual dining chains such as Applebees and Chili's across the USA, while airport restaurateur OTG has installed thousands of food-ordering iPads at half a dozen U.S. airports.
And a growing number of airlines – including Virgin America, Air New Zealand, Norwegian, Azul and Finnair – allow passengers to order meals, snacks and drinks via the IFE system in between regular meal services, while passengers onboard leisure carrier TUI Netherlands can order drinks and duty free via their own smartphone.
Skipping the queue
Saving consumers even more time, Starbucks this fall rolled out an order-ahead mobile application across all of its 7,000 stores in the USA, as well as across 150 Starbucks locations in London.
As soon as people have ordered, the app gives them an approximate pickup time, and Starbucks estimates customers can save between 10 and 15 minutes using this option. A similar service is being tested by fast food chains McDonalds and Wendy's.
At multiple airports in the USA, passenger can pre-order meals from airport restaurants, using mobile apps such as Grab, AirGrub and HMS Hosts' B4 You Board, which saves them having to queue up for food and drinks, and provides some peace of mind for those who are running late for their flight.
Passengers using these pre-order apps select an airport restaurant, place an order, pay and schedule a time to pick up their meal. When they arrive at the restaurant in the departure hall the freshly made meal is waiting to be collected. Orders can be placed days in advance, or even when passengers are queuing at the security checkpoint.
All in all, the notion of pre-ordering food and beverages seems to have evolved from a rather dull thing to do towards a smart move that is about convenience and getting the things they way you want.
Onboard Catering: Choice
Previously reserved for passengers who wish to order a special meal for cultural, religious or dietary reasons, a growing number of full-service airlines let passenger pre-order their meals and drinks before their flight. The service is popular with travellers who fly often and who are looking for a more varied choice.
As Chris Chamberlin from Australian Business Traveller puts it, "It's a win-win for both travellers and [airlines]. Passengers can lock-in their preferred meal choice in advance, rather than take a chance on missing out on their first choice. On the other side of the coin, [airlines] can reduce wastage and ultimately its costs by serving every passenger the meal they'd prefer to eat, and by limiting the number of extra servings carried on board to provide a choice."
While most airlines that provide a pre-ordering service offer passengers in Business a limited additional choice, airlines such as Singapore Airlines and Qantas in the past years have raised the standard.
Singapore Airlines' 'Book The Cook' allows passengers in First, Business and Premium Economy to choose their favourite dish from an extensive menu, while those travelling in Business and First can select from sixty menus on outbound routes from Singapore.
Whereas many airlines only allow passengers to pre-order from the airline's home port – in order to control logistics and quality – Singapore Airlines' Book The Cook service is also available on many flights departing from outstations – be it that a more limited choice is offered.
Qantas' 'Select on Q-Eat' pre-order service is also available in Economy on international flights departing Australia. Passengers can pre-order their choice of meal – including a fourth "online exclusive option – between seven days and 12 hours prior to departure online or using the Qantas app.
Pre-ordering paid meals
According to inflight catering expert Nikos Loukas from InflightFeed, "Pre-orders are definitely on the increase, but more so with the 'free' pre-order programs of First, Business and Premium Economy class offerings. Paid pre-order still seems to be an issue, and for example Aer Lingus recently cut back the number of their pre-order dishes from around five to one. Just goes to show perhaps Economy passengers aren't ready to part with their money for paid airline meals."
This means airlines have to become more inventive In order to increase paid pre-order take rates.
Mobile-Based Ordering
Taking a cure from the smartphone-based ordering deployed by the likes of Starbucks, Mc Donalds, and airport startups Grab and AirGrub, passengers on Alaska Airlines can reserve their favorite meals on the airline's smartphone app up to 12 hours before their flight and pay when the flight attendant delivers the meal onboard.
Austrian Airlines is one of a dozen full-service airlines that offer passengers in Economy on long-haul flights the option to upgrade to a premium meal for a fee of 10 to 20 euro. Besides pre-ordering their gourmet meal at the time of booking, passengers can also pre-order a meal in a later stage via Austrian's mobile app. Furthermore, at Vienna Airport passengers can pre-order their meals at the last-minute at the 'DO & CO A La Carte' desk until 1 hour prior to scheduled departure. Passengers who have ordered a paid gourmet meal are served before the regular food service starts in the Economy cabin.
Customize Your Meal
In an effort to provide passengers who pre-book their meal with even more choice, airBaltic has gained worldwide attention for its novel food ordering system that allows passengers to customize their buy-on-board meal. Passengers placing their order online can virtually 'drag and drop' their preferred meal items onto a digital airline tray and create one of more than 70 pre-order meal combinations.
According to Janis Vanags, airBaltic's VP Corporate Communications, the airBalticMeal service has seen a positive uptake because "the option to personalize ones meal is simply a better product than the limited choice that was available before."