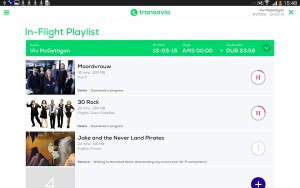 This article is re-published with kind permission of "www.airlinetrends.com".
By Ryan Ghee, Future Travel Experience
The discussion as to whether wireless in-flight entertainment (IFE) poses a threat to the traditional embedded screens is one that rears its head on a regular basis, but the wireless IFE providers themselves face stiff competition from a new breed of companies who see opportunities to further reshape the market, particularly on narrow-body aircraft serving short-haul routes, which have previously lacked an IFE offering.
Bring Your Own Content
Dutch LCC Transavia, for example, has partnered with a company called Piksel to allow passengers to browse movies and TV programmes, and download the content to their own electronic devices weeks, days or hours before their flight.
As soon as the passenger boards the aircraft, the pre-downloaded content is activated and it is then automatically deleted at the end of the journey to satisfy the licensing laws.
"Bring your own content" is not new – there is nothing to stop a passenger renting or buying digital content and saving it on their device before travelling, as many passengers already do with their Spotify Premium account and now also Amazon Prime – but the fact that it has now been embedded into a carrier's own IFE portfolio is certainly significant.
Roy Scheerder, Chief Commercial Officer at Transavia, explained that the Dutch low-cost carrier's decision to adopt the IFE solution was inspired by changing consumer habits.
"The way people consume media has changed rapidly in recent years and the airline industry needs to reflect this in its in-flight entertainment systems," he said. "Our aim was to both boost the flying experience for our customers and cut the high costs of installing onboard infrastructure for video delivery."
Pre-flight IFE
Piksel's Senior Vice President Business Development, Greig Hilton, told Future Travel Experience that "the advantage for the passenger is having the comfort and knowledge that they're going to be entertained for the flight on their own device. How many times have you boarded a plane expecting to have a seatback screen, but there wasn't one, or it wasn't working? Our research shows that over half of passengers travel without any in-flight entertainment, so there's high demand to select onboard entertainment in advance from an airline branded experience."
Hilton also pointed out the advantages for the carriers themselves.
"Airlines can benefit from extending the period of consumer satisfaction and positive brand engagement far beyond the length of travelling time," he explained. "This allows data to be gathered around their customers and affords airlines the ability to provide a more tailored, personalised solution."