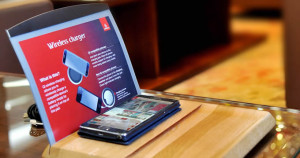 This article is re-published with kind permission of "www.airlinetrends.com".
Catering to frequent travellers who are suffering from so-called 'battery anxiety', Emirates has installed 30 wireless 'inductive charging' trays in its First Class and Business Class lounges in Concourses A, B and C at Dubai International Airport.
The trays allow customers to wirelessly charge up their smartphones simply by placing them on top of the tray.
The carrier said it placed the trays which use the Qi wireless charging standard and are compatible with Android, Blackberry and, with a cable, iPhone devices in "highly visible" locations. Each tray can charge two devices simultaneously.
Commenting on the new services, Mohammed Mattar, Emirates' divisional SVP of airport services, said:
"Mobile devices are an intrinsic part of our lives, and at Emirates we see free wifi and wireless charging on the go, as becoming the norm in the future travel experience.
IKEA, Starbucks
In the past few years, wireless charging of personal devices has becoming more mainstream.
For example, battery brand Duracel now offers a 'MyGrid' charging pad (In Duracell's words: 'drop & go charging') for around USD 40, while IKEA has launched a furniture range that has wireless charging technology integrated into the surface.
Starbucks is also rolling out wireless charging pads at its coffeehouses in the San Francisco and Los Angeles areas.
Delta Lounge, Toronto Pearson Airport, SSP
Emirates introduction of the wireless charging pads follows several airlines and airports that have also jumped on this novel technology.
For example, Delta has installed Duracell's wireless Powermats in the seating areas of its domestic SkyClub lounges.
The wireless charging pads are designed for lower power charging devices such as cell phones, smart phones and e-readers. Adapters for a variety of different devices are available from Delta staff in the lounge.
At Toronto Pearson Airport, major seating supplier Arconas has integrated Duracell's Powermat technology into the flat surfaces that are located in between the seats, while in Europe, Finland-based Powerkiss (which has been acquired by Powermat in 2013) has teamed up with airport F&B operator SSP to integrate its wireless charging technology into the tables at SSP outlets across Europe.